New Adopter Training Workshops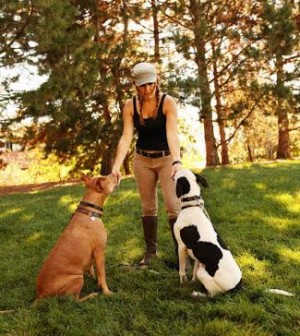 Are you tired of your dog being out of control? Does your dog not listen? Does he jump on guests, bite, mouth or pull you down the street on walks? Have you recently adopted a new dog? If you have answered yes, or have been looking for answers to your dog's behavioral issues, you are in luck.
Coming soon are a number of workshops from Kelley McAtee and Dharma Dog Training that will help you and your new dogs adjust to each other. Dharma Dog Basics/New Adopter Training Workshops are aimed at enhancing the new partnerships between humans and dogs for a healthy, balanced and well-behaved life together.
On Saturday, August 29 from 2 pm – 5 pm, Dharma Dog Training will be holding their very first workshop that you AND your dog will be able to attend! Register yourself and your dog in advance through the Dharma Dog Training website and do it fast- Limited spots are available.
WHERE:  24653 Bridge Rd. Council Bluffs, IA 51503
WHEN: August 29, 2-5 pm
UPCOMING WORKSHOPS (held at Iowa Western Community College Auxiliary Gym, 2700 College Rd. Council Bluffs, 51503
SEPT 26, 2015
OCT 24, 2015
NOV 21, 2015
JAN 16, 2016
FEB 13, 2016
MARCH 19, 2016
As dog owners, our natural instinct is to provide our dogs with an endless amount of love and affection.  However, it's very important to remember that in order for your companion to live a healthy, balanced lifestyle, they not only need an abundance of TLC, but they also need guidance, structure, proper discipline, and most importantly, time to adjust. Without these things, our dogs will most likely start developing bad habits and issues. In turn, this may even cause us to wonder if we made the right decision about adopting a dog. Nipping problems in the bud by attending the New Adopter Workshops from Dharma Dog is just the right medicine to solve behavior issues and even stop them before they start.
As trainers, rescue volunteers, and dog rescue parents themselves, the Dharma team understands the emotional rollercoaster that can occur when being the owner of an unbalanced dog. It's not only frustrating for the owner, but it is for the dog as well. Dogs are domesticated animals and rely on humans for everything, which includes looking to you for guidance.  When we do not set dogs up for success by creating clear rules, boundaries and limitations, the dog ends up losing in the end.
In order to help avoid second guessing and to prevent any unwanted behavioral issues from even starting, Dharma has worked with some of the top trainers in the country to create a program to help set you and your dog up for success.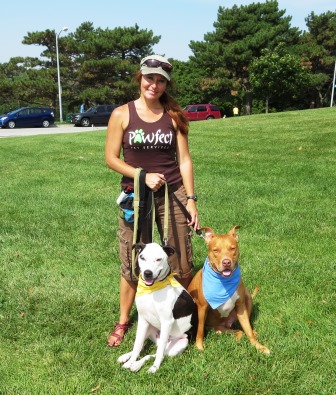 DHARMA DOG BASICS WORKSHOP Details:
Cost: $150 for a 3-Hour, Interactive Workshop
*Training lead is included and additional equipment may be purchased. Also, private training sessions can be set up after workshop for $75 per session.
YOU WILL LEARN:
LEASHWORK
TOOLS
KENNELING
BASIC COMMANDS
OUTLINE OF RULES
REVIEW OF PET INTROS
FEEDING ROUTINES
FOUNDATIONAL EXERCISES
NEW DOG INTROS
DHARMA DOG ASSISTANT TRAINERS
Gina Rotella
Assitant Trainer & Rescue Specialist
Omaha, NE
Gina has been an animal lover all her life and grew up with dogs. She used to play vet on her dogs growing up and adored spending time with them, especially her best friend Champ the boxer who ended up passing of cancer at the age of seven.  She began rescuing and saving animals from a young age- bunnies, frogs, ants, worms, and more, but she especially loved taking care of cats and dogs.  Gina has a heart for all living things and does everything she can to help them.  She began veterinary technician school but realized her passion was more about rescuing and helping homeless animals.
Gina currently works full time in National Sales for her family's local Italian Bakery Company, Rotella's, and for two years volunteered with a local rescue, Helping Hands for Animals.   Gina volunteered her time walking dogs and taking them to rescue adoption events. She also organized fundraising efforts, coordinated the adoptions and handled the dog introductions and follow ups with new adopters to ensure the adoptions went smoothly.
Now, Dharma is lucky to have Gina as part of the team. Gina will be dedicating her time to help with the rescue dogs and the training they need with Dharma Dog Training, ensuring that you and your dog have a forever home together.
Katy Rawhouser
Assitant Trainer & Rescue Specialist
Lincoln, NE
Katy has also been an animal lover all her life and grew up with all kinds of animals. Katy began as a Dharma Dog Training client after rescuing a seriously human-and-dog-aggressive dog named Brisal. Katy searched out serious training for her dog because she knew she needed it in order to save Brisal's life. Katy has done amazing work with both of her own dogs, navigating serious behavior and health issues and has even rehabilitated other foster dogs.
Katy currently works full time for the State of Nebraska Foster Care System and works with children and families.  Every day she sees children going through difficult situations and navigating stress and emotional pain.  She has keen skills to apply to dogs in the training world.  She understands dog work is life work.
To ENROLL in Dharma Dog Basics/ New Adopter Workshops, please fill out the form on the Dharma Dog Training website and trainers will be in touch to set up your session! Dharma looks forward to empowering you with the tools to train your dog!