Alley Cat Allies CEO aims to stop Australian effort to kill 2 mil Cats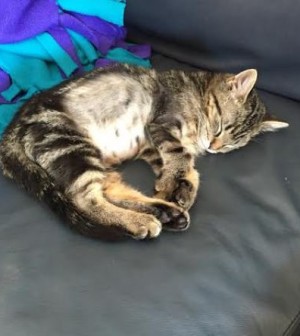 A press release from our friends at Alley Cat Allies, an advocacy group helping felines around the world, inspired us to share what's happening with Becky Robinson. She and her efforts are leading to the promotion of alternatives to mass animal control measures. Find the press release below.
It also reminded us of the great work that shelters and rescues do each day to turn strays and/or feral cats into community and family members, not simply statistics. What's happening in your neighborhood and community to promote adoption over simple animal control? We'd love to hear your story!
BECKY ROBINSON WORKS AGAINST AUSTRALIA KILLING 2 MILLION CATS
Meets and Encourages Local Groups Who Oppose Government Plan
BETHESDA, Md., USA – March 4, 2016 — Following on from two weeks of productive meetings across Australia, Becky Robinson, president and founder of Alley Cat Allies, is calling upon individuals and organizations — both in Australia and around the world — to take a stand against the Australian government's plan to kill two million cats.
"Given the evidence from decades of cat killing campaigns in the United States, Britain, Denmark, Israel, Canada, and Italy, it would be foolish to think Australia's current plan will reduce cat populations or bring any benefit to wildlife," Robinson said. "In short, the plan is cruel and ineffective."
In addition to visits in a number of other towns in Australia, Robinson met with coalitions of people who are working against the government's cat cull program in Sydney and Melbourne, Australia's two largest cities. Robinson met with scientists who explained that habitat destruction and urban sprawl in Australia — not cats — have caused the extinction of species and endangers many more.  She spoke with caregivers, grassroots activists, shelter operators, academic instructors and government leaders about saving cats' lives. She explained the proven success of nonlethal population control methods for cats.
"I'm inspired by the growing movement of Australians who are demanding their government to come up with plans to protect endangered species that don't involve killing millions of animals," Robinson said.
Robinson presented at the Helen Woodward Animal Center's The Business of Saving Lives conference in Sydney about Trap-Neuter-Return (TNR) and other nonlethal population control programs. Mike Arms, CEO of the Helen Woodward Animal Center; Diane Blankenburg, CEO and principal consultant of the Humane Network; and other animal protection experts offered perspectives on proven, nonlethal approaches that are available to Australia.
As part of its global commitment to promoting humane treatment for cats, Alley Cat Allies looks forward to building further connections with Australian cat groups and offers them assistance in their work.
Robinson is now calling upon individuals and organizations — both in Australia and around the world — to pledge support for the humane treatment of cats in Australia. Launched by Alley Cat Allies, the pledge calls on Australia's Minister for the Environment to end his department's plan to kill two million cats by 2020 and in its place to develop nonlethal strategies for protecting animals in Australia.  To learn more about the pledge, visit www.alleycat.org/Australia.
About Alley Cat Allies

Alley Cat Allies, headquartered in Bethesda, Md., is the only national advocacy organization dedicated to the protection and humane treatment of cats. Founded in 1990, today Alley Cat Allies has more than 600,000 supporters and helps tens of thousands of individuals, communities and organizations save and improve the lives of millions of cats and kittens worldwide. Its website is www.alleycat.org, and Alley Cat Allies is active on Facebook, Twitter, Instagram, Google+ and YouTube.