Anxious, scared, restless puppy? This sleep companion may help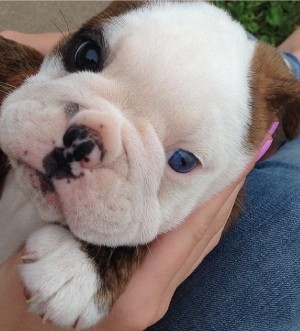 I've got a two-year-old daughter. In her two years, she's slept all the way through the night only a few times. That fact stinks for everyone. We all need good sleep. This problem is not unique, as most of us know, and it applies to not only young humans, but young canines, too.
And in an attempt to get my little one to remain in bed, sleeping all night (or at least sleeping a bit more soundly) she now sleeps with a Lulla Doll from a company called RoRo. It's quite the sleeping buddy and not your traditional baby doll. The Lulla Doll website says, "The Lulla doll is a sleep companion for preemies, babies and toddlers. It imitates closeness to a caregiver at rest with its soft feel of natural cotton and soothing sounds of real-life breathing and heartbeat. Lulla's unique design is based on scientific research that shows how closeness improves sleep, wellbeing and safety."
So far, the difference has been negligible, but she loves the doll and it seems to bring her a little comfort. Why she doesn't sleep all night is a mystery, but for dogs, their sleeplessness can be pinpointed fairly easily.
It's rare that a mother dog, when giving birth, has just one pup. Likely, there are many brothers and sisters available to bond with, snuggle, and love. Mother is also their best snuggler and lover. But when puppies, for whatever reason, are taken away from litter mates and mom too soon, problems almost always arise.
Good news for pups and those who care for them, there's a comparable doll made just for canines.
The Smart Pet Love Snuggle Puppy Behavioral Aid Toy looks like a stuffed animal, but its effects achieve much more than a plush, run-of-the-mill, animal-looking toy. From the Snuggle Puppy product description: This cute Snuggle Puppy would love to be your pet's new best friend. Dogs and puppies are pack animals and are instinctively drawn to their mother and others in their pack. Snuggle Puppy recreates that intimacy with physical warmth and a simulated heartbeat. The result is a calmer, more peaceful pet – one that feels less loneliness, fear and separation anxiety. Snuggle Puppy uses a real-feel pulsing "heartbeat." the batteries (included) last up to 2 weeks with continuous 24/7 use and the hearts on/off switch allows for use when you need it. Included with your Snuggle puppy is one disposable warmer pack (Safe for people and pets, each pack lasts 24 hours) for an extra source of comfort for your pet. Snuggle Puppy is all natural, medication free, not a restraint, and calms your pet by appealing to basic natural instincts.
So, if as a foster parent, rescue volunteer, or shelter worker, have the task of helping a young, anxious pup sleep without panic or fright, consider trying this product (or a comparable one- there are a few different ones). There is no replacement for a mother or sibling, but this could be the next best thing.
Find the Snuggle Puppy at various retailers or shop on the company's website by clicking here.