Help Area Non-Profits in this year's Omaha Gives!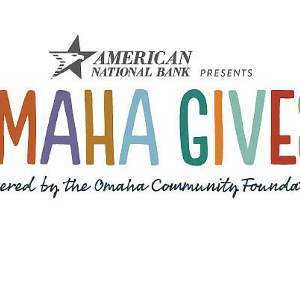 What is Omaha Gives?
Omaha Gives! is a 24-hour online giving event organized by the Omaha Community Foundation to grow philanthropy in Douglas, Sarpy, and Pottawattamie counties. The goal is to inspire the community to come together for 24 hours to give as much as possible to support the work of public 501c3 nonprofits in the metro area. The minimum donation is $10 and there is no maximum. Bonus dollars and prizes amplify charitable donations to make each dollar go further. Search profiles of participating nonprofits and track progress during the event on our leaderboard. All donations will be processed through this website. In order to participate, nonprofits must meet our eligibility requirements and are required to register by February 19, 2016. For more details, please read the Frequently Asked Questions. For questions regarding credit card donations, contact a member of our finance team: melisa@omahafoundation.org, andrew@omahafoundation.org, or yvette@omahafoundation.org.
How do you give?
Click https://www.omahagives24.org/index.php and find the "Give Now" button. From there, you'll be able to find participating non-profits and fundraisers.
Click the organization you'd like to help, read about their missions, start a fundraiser of your own, and check out what they do in our community. All groups here are vetted and are worthy of your support, so help however you can!
Here's a list of participating animal-related groups:
Basset and Beagle Rescue of the Heartland

Catnip and Tails Rescue
Doberman Rescue of Nebraska
ET Farms Animal Rescue and Sanctuary
Feline Friendz in Nebraska
Golden Retriever Rescue in Nebraska
Great Plains Pointer Rescue
Greater Omaha Cage Bird Society
Hands, Hearts & Paws Rescue
Heartland Cats
Heartland German Shepherd Rescue
Hearts United for Animals
Helping Hand for Animals
Homeward Bound in the Heartland
Hooves and Paws Rescue of the Heartland
Little White Dog Rescue
Lusco Farms Rescue
Jubilee Center for Equine Assisted Therapy and Rescue
MidAmerica Boston Terrier Rescue
Midlands Humane Society
Midwest Dog Rescue Network
Muddy Paws Second Chance Rescue
Nebraska Border Collie Rescue
Nebraska Boston Terrier/French Bulldog Rescue
Nebraska Dachshund Rescue
Nebraska Humane Society
Nebraska Rescue Council
Nebraska Wildlife Refuge
Northern Plains Boxer Rescue
Omaha Dog Park Advocates
Omaha's Henry Doorly Zoo and Aquarium
Pottawattamie County Animal Shelter
Promise 4 Paws Dog Rescue
Pug Partners of Nebraska
SOLAS
Taysia Blue Rescue
Town and Country Humane Society
Wag n Train Terrier Rescue
Western Iowa's Feral and Homeless Cat Program
Wildlife Encounters