Attend a pair of Meet and Greets with local rescues – Feb. 24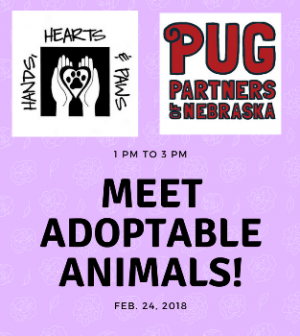 oh no! The Pug Partners meet and greet has been called off. Check their events out by using our Events page, www.petsinomaha.com. 
This Saturday, Feb. 24, 2018, spend your afternoon at one or both of scheduled meet and greets with local rescue organizations!
Below, find details on when, who, and where. Click the Facebook links to learn even more.
*Note: both take place from 1 pm to 3 pm, so be sure to get around town in time!
1. Stop out to Woof & Whiskers (3506 N 147th St. Suite 128) to meet pugs from Pug Partners! It's going to be a curly tail wagging good time!
Adoption Event with Pug Partners of Nebraska
February 24 @ 1:00 pm – 3:00 pm
More: https://www.facebook.com/WoofWhiskersPet/
2. The Green Spot is the place to be to meet DOGS! Join Hands, Hearts & Paws at The Green Spot this Saturday!
Meet and Greet at The Green Spot
February 24 @ 1:00 pm – 3:00 pm
The Green Spot Omaha
1110 S 71st St, Ste K
Omaha, NE 68106