Attend the Second Annual Vets & Pets Blackjack Run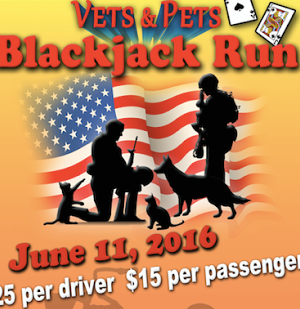 Midlands Humane Society (MHS), a nonprofit organization, along with American Legion Post 2 Riders (American Legion) is hosting its second annual Vets & Pets Blackjack Run on June 11, 2016.
All vehicles are welcome to join the run, which stops at multiple Iowa locations, for $25 per driver and $15 per passenger. Participants can sign-up on-site the day of the event.
Event details:
– 10 am to Noon: Sign-up at American Legion, 716 South 4th Street in Council Bluffs
– 9 to 11 am: Breakfast served by the Legion Auxiliary. $5 donation is requested.
– 6 pm: Last hand is at the American Legion followed by food, prizes, raffles and silent
auction.
The American Legion Riders Post 2 in Council Bluffs are partnering with Midlands Humane Society for this sure-to-be-fun Blackjack 21 Motorcycle Run fundraiser. "The proceeds are split between the two organizations to benefit Veterans Services at the Legion in Council Bluffs along with the animals at Midlands Humane Society," says MHS Board Member and Event Chair Terri-Gach-Mills. "There will be five stops along the way with homeless pets available for adoption at each site. The final stop of the day along the route is at MHS where participants tour the shelter and see more pets available for adoption. Upon arriving back at the Legion, riders are treated to free food and prizes."