Attend Dogtopia's Grand Re-Opening!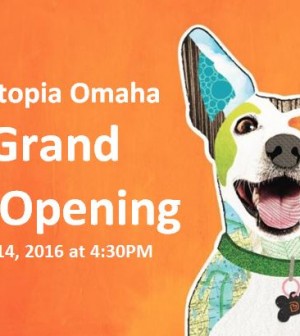 Dogtopia Omaha, under new ownership, will host a Grand Re-Opening celebration on June 14, 2016. Details appear below in a letter from the new owners. Plan to attend!
Here's the letter:
Hello Dogtopians!
We are so excited about our upcoming Grand Re-Opening and wanted to share more details about the event!  The list of vendors and rescue groups  include: Veramae Photography, Three Dog Bakery, Taysia Blue Husky & Malamute Rescue, Heartland German Shepherd Rescue, Hands Hearts Paws, Legacy Carpet, Papillion Tea Shop, and Village Pointe Toyota.  Our experienced groomer, Natalie will also be present to answer any grooming questions and get your dog scheduled for their next spa day!
The Sarpy County Chamber of Commerce will be at Dogtopia at 4:30PM for a ribbon cutting ceremony, and immediately after will be an open house for all our guests.  We will have food and refreshments for everyone in attendance, and the first 75 guests will go home with a Dogtopia goodie bag!  We will also have a free raffle with the chance to win many great prizes!  Below you will find the event date and time details as well as detailed information of all the great rescues and vendors that will be present!
DATE: Tuesday, June 14th
TIME: 4:30PM – 6:30PM
LOCATION: Dogtopia of Omaha, 13239 Portal Drive, Omaha, NE 68138
Veramae Photography:
We will have Krystal Sibley of Veramae Photography taking pictures of the event and she will also be taking photos in our pup-friendly photo booth.   Bring your four-legged friends for a memorable photo!  We will post the photos to our Facebook page and will also provide a free print to you after the event.  If you love the photos, you can order larger sizes through Krystal!
Three Dog Bakery:
Three Dog Bakery is the original bakery for dogs, and they are committed to making premium, natural treats for happier, healthier dogs.  Their treats are a natural, wholesome way to love your dog!
Taysia Blue Husky & Malamute Rescue:
Taysia Blue is a 501(c) non-profit organization with a focus on  sheltering, rehabilitating and re-homing Siberian huskies and Alaskan Malamutes in The Midwest who are displaced, abused, neglected, abandoned or surrendered by their owners.
HUGS (Heartland German Shepherd Rescue):
Heartland German Shepherd Rescue (HUGS) is a Nebraska-licensed, all-volunteer, 501c3 non-profit dog rescue, based out of the Omaha-Lincoln area.  Their focus is to save German Shepherd dogs at risk of being euthanized in shelters or in other dire situations.
Hands, Hearts &Paws:
Hands, Hearts & Paws is a state licensed, 501c3 not for profit, animal rescue group.  They are a volunteer-based group of hard-working animal-lovers. They rescue pets from high kill shelters, puppy mills and homes that can no longer keep them.
Legacy Carpet:
Legacy Carpet has been serving the Omaha area since 2004.  They offer a variety of cleaning services for homes and offices including carpet and tile cleaning, as well as water damage repair.  They only employ certified and trained carpet cleaners and their services are perfect for pet owners who need a deep cleaning of their carpets.
Papillion Tea Shop:
Owner Diana Connolly sells the finest teas, teaware, and accessories in downtown Papillion at the Bell Place Shoppes.  She carries over 60 teas – white, black, green, rooibos, chai, oolong, white, pu'erh, matcha, and herbal – packaged teas, and accessories and also also offers teas-to-go.
Village Pointe Toyota:
Former Husker football player P.J. Smith of Village Pointe Toyota will be in house and will have a 2016 Toyota Camry for live demo in the parking lot. At Village Pointe Toyota their goal is to help you find the best new or used car for your family. The customers always come first at Village Pointe Toyota, which is why they continue to be one of the leading Toyota dealers in Omaha.
We are looking forward to seeing you on Tuesday!
All our best,
Derrick & Kaitlyn