Bark Avenue Celebrates 15th Anniversary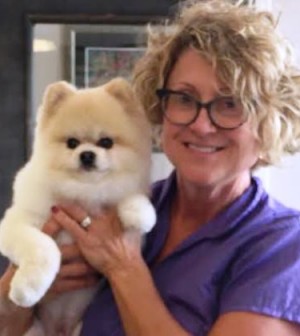 In 1970, a then teen-aged Suzanne Wilke enjoyed her time working at "This and That for Dogs," a pet store her aunt operated here in Omaha, but she likely had little idea that what she was starting to do would end up being her passion, career, and livelihood. She was a just a "helper" for a time, but it didn't take long for her aunt to see Suzanne not only liked grooming dogs, but she was good at it. Fast forward to 2016, Suzanne is now celebrating her 15th anniversary as the owner of Bark Avenue Omaha, a set of grooming and day care facilities that have served thousands in the area.
The business started in a single bay, providing grooming and day care services for dogs. Other than the Nebraska Humane Society, Bark Avenue was the only game in town in terms of doggie day care. Now that the NHS's day care is gone, Bark Avenue is the oldest business of it kind in Omaha. And since its first day on March 5, 2001, the original Bark Avenue has moved to a larger space that "works well for dogs, staff, and customers," she says, plus Bark Avenue's Inn and Daycare business has expanded and opened a second Bark Avenue location.
One reason the business has thrived, Suzanne says, is that all the staff has bountiful patience, and are very dedicated to their life long careers. "We all really love our customers and their dogs. You don't make it in this industry if you don't love every aspect of it." By studying with some of the top pet care professionals in the country, Suzanne says her business aims to be progressive and find good ways to expand. "Our biggest goal is safe, happy dogs." Given the longevity of the business and relationships she's forged here, it's safe to say she's achieving that goal.
Part of being so successful, she says, is adapting to needs of dogs and their owners. One tool Bark Avenue is taking advantage of is new software that allows staff to send video to pet owners who leave dogs in her care. "They can check in at any time and see our staff enriching the dogs," she says. Her staff is always present in play areas, Bark Avenue limits the size of groups that dogs play and socialize in (something she says is unique), will soon embark on more training classes, and is in the process of expanding to 3300 square feet at the Inn location, plus adding additional space for daycare at Spaulding Street.
Grooming, daycare, overnight stays and more are offered at Bark Avenue's two locations and more services and amenities are added as the business grows. Click here to learn more about all Bark Avenue offers from its website. Facebook is another place to connect with Bark Avenue and its page can be found by clicking here.
Congratulations to Bark Avenue on 15 years in Omaha, and here's to more great years to come!