Beatrice shelter pups set to become service dogs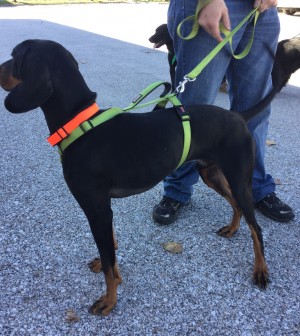 We've written about service dogs from places like DOMESTI-Pups and Cares, Inc. in the past, but this is a story that stemmed from a small shelter in rural Nebraska and produced two future service pups that you'll love to read.
The following comes from the News Channel Nebraska, an Organization covering news and information in our state, especially in the southeast portion of it.
BEATRICE – Two shelter puppies took the first step to their new forever homes Tuesday morning with one unique twist. That step was onto an airplane. The Beatrice Humane Society received two St. Bernard/Boxer mixes nine weeks ago but Beatrice Humane Society Manager Bryce Caulk says the puppies were spoken for almost as soon as they came in.
"When they came into the shelter. Just a few days after, once they were available and they had their vaccines and everything done, he immediately picked him out."
These two pups named JD and Jameson are brothers but will be going to separate homes. They will still get to have playdates and see each other because their owners are best friends. Caulk says he's glad to have been able to keep the brothers close together.
"I posted on my personal Facebook just because I know a lot of people and a lot of networks and just so happens one of my good friends I've worked with before in rescue was looking for a St. Bernard/Boxer mix to train for therapy service dog. His mother had just passed away so he was like, right now is the time he is really looking for something to do and it just so happened that his picture really jumped out and caught his heart. A few days after he came in, Jameson, and he agreed to adopt him, his brother JD came in and I sent him a picture and I said 'Hey do you know any of your friends that might want to adopt them so they can stay together?' His best friend chose to adopt him too so they are both going to go up there."
JD and Jameson will also be enjoying life as therapy dogs for the local hospital. This process takes from 8 to 12 weeks after the general obedience training. Caulk says because they are so young they will not have to be treated any differently as therapy dogs.
"Being a puppy there isn't really much they will have to evaluate because puppies normally have a really good demeanor. In your breed your St. Bernard and your Boxer are very good family pets. They are very smart so you aren't really going to find much aggression or anything in those breeds. Just treating them like a normal puppy."
The puppies took a flight from Beatrice to Chicago and will then drive to New York then move to their forever home in Connecticut.
Stay tuned to Pets in Omaha as we cover neat stories like this from our own news team and from other news outlets around the area. Have a story you'd like to share? Use our contact form or email our editorial mananger, Eric Forrest, at eforrest95@gmail.com