New Omaha Billboards Heighten Puppy Mill Awareness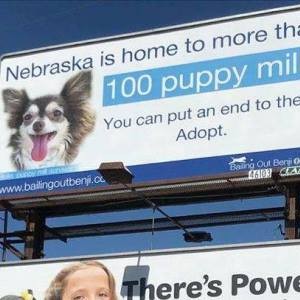 September- Puppy Mill Awareness Month. And for Puppy Mill Awareness Month, Bailing Out Benji (BoB) and its Nebraska Chapter, Puppy Mill Free Nebraska, unveiled its first Nebraska billboards in order to educate and raise awareness.
Bailing Out Benji has been educating for years in Ames, Iowa, its home base, and has recently spread its wings, organizing volunteer groups in other Midwestern states. Nebraska's group is about a year old and is becoming a louder voice for animal advocacy. The group has held three peaceful protests of Omaha stores that sell dogs on two dates. The billboards are the group's latest campaign to educate animal lovers about the dogs that come from pet stores and puppy mills.
Belle, the dog pictured on initial billboards, is a mill survivor. Dana Thelander, Team Lead in Nebraska, owns Belle. She's blind and was recently put on medication for a heart murmur, but she's a happy girl now that she's free from the plight of living in a mill. "She's as happy as she looks on the billboard," Thelander says. Dana is also very pleased with the new campaign as it brings "much excitement about the visibility of our campaign and overall message."
Bailing Out Benji is a non-profit founded by Mindi Callison. She and volunteer teams educate at events multiple times per month and hold protests at pet stores that sell puppies, including Pets R Us in Omaha and Tully's Kennels.
"We are extremely excited and honored to partner with Lamar Outdoor to get dozens of billboards up across the Omaha metro just in time for families to start thinking about purchasing puppies for the holidays!" says Mindi Callison, founder of Bailing Out Benji.
"It is our goal to educate thousands of families in Omaha about the puppy mill issue, and give them an alternative to buying from pet stores or ordering a dog online."
It is important to Bailing Out Benji, a small nonprofit, to create educational PSAs that will grab the attention of dog lovers everywhere. This first set of billboards will be released in September's final week ( BoB is unsure of location at this time) and more will be released through December.
"The ads will remain up as long as we have funding to do so," Callison says. "Your donations are put to good use and go a long way!"
To find out more about Bailing Out Benji or to donate, click here.