Please help Blitz find a forever home!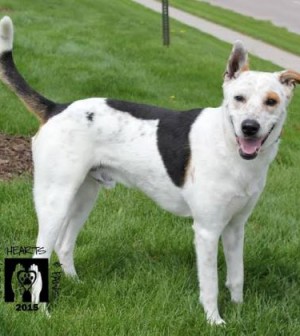 Once in a while, animals stay with foster parents from a rescue organization too long. Whether its for ongoing medical treatment, building social skills, potty training or just bad luck, it happens. With so many people wanting dogs, how can this happen?
Hands, Hearts & Paws currently has a pup named Blitz who should have been placed in a home by now. The folks there gave us at Pets in Omaha some information on big Blitz and we're asking our readers to give it a read, put in an adoption application and/or tell friends about this sweet guy.
Here's a little blip from HHP about Blitz:
Blitz is a wonderful boy, good with other dogs, loves kids and needs a CAT FREE home.  Blitz is house trained, kennel trained, loves to snuggle, is an excellent running partner or runs along side your bike.  Blitz does need a 6 foot fence to keep him safe.  Is Blitz your new best friend and training partner?  www.handsheartandpaws.petfinder.com
Like we said, sometimes dogs just can't get everything down, but Blitz seems like a great companion who has just had a run of bad luck. No cats and a 6-foot-fence are his only needs! He sounds like a great fitness buddy, so if you're looking for an active pal, Blitz is your guy!
Check out the link about and contact HHP as soon as you decide you're ready to apply to bring Blitz home!