Bluffs Run Greyhounds race no more, now need homes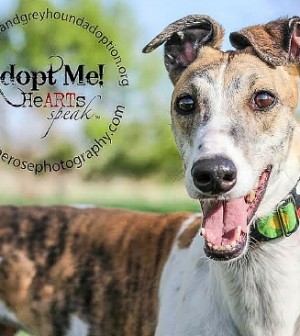 On December 18, 2015, Bluffs Run will run Greyhounds for the last time. But what happens to the dogs?
Heartland Greyhound Adoption, an all-volunteer, nonprofit 501(c) (3) organization which promotes the adoption of retired racing Greyhounds, will spearhead the effort to find homes for the Council Bluffs racers. "We don't know how many will need homes for sure," Katie Stacey of Heartland says. "Many of the dogs currently at Bluffs Run will go to other tracks across the country. The number that will stay here is up to how they perform between now and December 18."
Heartland is anticipating that around 100 Greyhounds will need to be fostered before adoptions take place- a number that its group will have to work extremely hard to manage. Foster homes are the most pressing need, says Stacey. Large crates are also going to be needed and, being a nonprofit, all volunteer organization, Heartland will need donations of crates and/or money.
Stacey says her group is "accustomed to handling around 20 dogs at a time in foster homes." It's unclear whether the upcoming Greys becoming part of Heartland will number 50, 100 or more, but "it's safe to say we'll have many more than 20." Stacey and the rest of Heartland in working with other Greyhound adoption groups in the Midwest. "We can definitely use the help of volunteers (current and new) to open their homes to these dogs so they have a nice place to stay while we process them."
"The ultimate goal, of course, is to find these wonderful dogs loving forever homes. Having more foster homes will help give us the time we need to appropriately screen applicants to assure we place dogs in good homes."
What's more is that the trainers and kennel workers from Bluffs Run will be out of work when the track closes. Employing those folks isn't something most of us can do, but helping to spread the message about the Greyhounds they love will be the least we can do. Heartland and the people of Bluffs Run have worked together to find retired racers homes and the relationship is beneficial to adopters, Stacey says. "The people who work with the dogs adore them and know them really well. They let us know their habits, likes, and dislikes." This information definitely comes in handy when adopters and dogs meet and learn to love each other.
And while the people will look for new direction, they will also be looking forward to life after the track for the dogs. "Even years after the dogs have left the kennels, the trainers enjoy getting updates about them," Stacey says. "Many of the dogs even remember their trainers years later, and will happily jump all over them when they see them."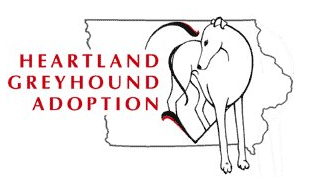 Together, let's spread the word about these dogs. If you can't foster, adopt or donate, please share.
If you aren't familiar with Greyhounds, Heartland would encourage you to read about them. You'll find out these dogs are calm, elegant and make excellent pets. "They're generally quite low energy and easy-going dogs, contrary to what you might think," Stacey says. "They do not require lots of room or constant exercise. They're sprinters, so they're as good, if not better, at conserving energy than running." Typically, medium to large dogs don't do well in small, single family homes or apartments, but Stacey says these dogs will do fine in almost any setting.
If you are interested in becoming a foster or adopting one of the soon-to-be-homeless Greys and live in western Iowa or Nebraska, contact Stacey via email – wasserbuffel@gmail.com. If you are closer to the Des Moines area, contact Jorene King, President of Heartland, via email – joreneross@aol.com.
Also, make sure to check out Heartland Greyhound Adoption on the web by visiting their website (www.heartlandgreyhoundadoption.org) and liking them on Facebook. 
See a few Greys from Heartland Greyhound Adoption below! Thanks to Esme Rose Photography for volunteering to take these photos for Heartland and letting us share.