Camp Kindness at NHS – teaching proper care, empathy and more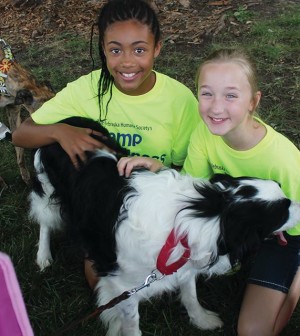 Soon, kids from all over the area who love animals will participate in the Nebraska Humane Society's Camp Kindness. The shelter, located at 90th and Fort Streets in Omaha, will open its doors for a very special kind of summer camp. During each five-day session, kids will go behind the scenes and check out animal care, dog training, surgery and more.
Camp Kindness has been around for nearly 15 years and aims to teach children ages 6 to 13 appropriate pet ownership.  Tracey Wieser, the Humane Education Manager at the Nebraska Humane Society says, "Every day is jam-packed" with interactive education.
"We try to do as much hands-on time as possible. We do lots of enrichment activities- like sometimes they make tie-blankets or bandanas for the shelter dogs," said Wieser.
Other activities include stuffing KONGS, baking biscuits for the dogs and making tug toys.
Kids will also get a taste of what it takes to be a veterinarian or dog trainer. There are daily visits from special guests such as Raptor Recovery, Border Collie Rescue, Love on a Leash, and other special groups. This year, the shelter will also welcome Banfield Pet Hospitals, which are located in most PetSmarts.
Each kid is also paired with a shelter dog for an activity called "shelter buddies." For children in the 6-to-9-year-old range, this means reading to their shelter-buddy each day. Kids in the 10-to-13-year-old range learn how to train their buddies using a method "front-kennel training." No child is allowed to pick a puppy buddy during the process. Weiser says that this is because puppies are going to get adopted faster than older dogs and the shelter wants to teach children that older doesn't mean they're damaged. 
"We want to change the stereotype that shelter pets are damaged… A lot of the kids fall in love with their shelter buddies and adopt them," Wieser said.
In addition to teaching children that older shelter dogs are just as lovable, they also want to teach children proper ways to treat pets.
"A lot of us, even as adults, think that we can bend our pets' wills to ours. We want to teach them empathy and respect for the animals."
At the end of each week, campers have picnic Fridays where kids are encouraged to invite their family to the shelter for lunch. Kids then get the opportunity to show the guests what they have been doing all week.
The camp has two age groups. The junior camp is for kids are kids from 6-9-years-old and meet from 9 a.m. to noon. The senior camp is for children ages 10-13 and meet from 1 p.m. to 4 p.m. The camp's first session starts June 6 and will continue until July 2. Sessions costs $170 per child. Some sessions are already full, so it recommended that you sign your kids up soon. You can do so  here.
Photo: The Nebraska Humane Society