Help Caprice start her new life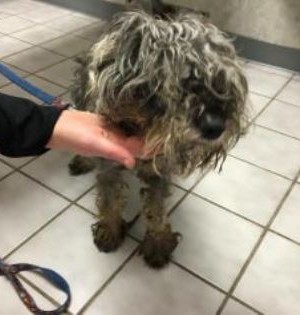 A couple of our Iowa friends have a wonderful rescue story to share. Read about Caprice below and see how you can help her start a new life.
On March 18, 2016, Zach thought he was just out getting coffee like he does most mornings. He was driving down a busy Des Moines (Iowa) intersection when he saw a dog standing all alone on the sidewalk, not following any of the people walking by. Zach, who is a dad to two very spoiled rescue dogs, turned his car around in a hurry to try and scoop up the dog. From the road it appeared to just be a stray, but it wasn't until he approached her that he realized her physical state.
This sweet dog was not only terrified and alone, but she was severely matted to the point where she couldn't even see where she was going. Zach didn't waste a second and got her straight to All Pets Vet Hospital. On his way, he contacted Jennifer Kluesner, the owner of Jett and Monkey's Dog Shoppe and a foster for FluffyButts Rescue. This pup needed help and she needed it now!
It wasn't until the dog, later named Caprice , was groomed and bathed did they realize the full gravity of the situation. The vet guessed that this 10 year old dog had been on the streets for around two weeks, based on her severe dehydration and weight loss. Caprice's blood work came back great, but she has some dental disease, is blind in one eye… and the vet also found a giant fatty tumor on her side.
The tumor appears to have been ignored and untreated by her previous home for years. What might be even more heartbreaking? The vet had to remove her dirty pink collar from her neck before they shaved her down.  Caprice used to be loved by someone. Used to be.
Did we mention that she appears to be a purebred Schnauzer? 
Jennifer, who has helped adopt out over 310 dogs through her humane pet store, Jett and Monkeys (located in the East Village), didn't hesitate to help Caprice- which comes as ZERO shock to us. Kluesner fosters the dogs that most rescues wouldn't dream of. The petrified mill kids, the disabled, the old, the dying. Caprice really hit the jackpot on the cold March morning that Zach saved her life.
Jennifer quickly scheduled her surgery at IVRC but until then, Caprice got to join the Kluesner Pack. She got several new hoodies to keep her warm but, most importantly, she had a family to love and care for her. This sweet girl was likely someone's indoor pet. Although her bladder isn't strong and she has some incontinence issues, Caprice tries her hardest to make it to the door and let her foster parents know she has to go potty. This sweet girl just wants to love and be loved.
Fast-forward $2000 later; we are happy to introduce the adorable Caprice.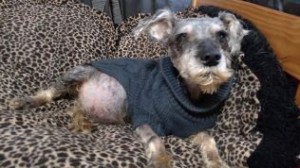 She may have been rescued and she got the almost 4 pound tumor removed, but she needs your help now more than ever.
For a small nonprofit rescue and a foster Mom who pays for food and does fundraising for medical costs,  the $2000 vet bill is staggering. That initial cost doesn't include food, medicine, or the upcoming dental that is will be happening within the next few weeks. This is where we need YOU. Not only is Caprice in search of her forever home, we need help chipping away at some of these vet bills. By the time Caprice is adopted, Kluesner anticipates that the bills will reach over $3000. DONATIONS ARE TAX DEDUCTIBLE! 
Ways to Donate:
* Donate directly to FluffyButts Rescue by way of paypal: FluffyButts4u@yahoo.com  The donate link is also on their website (Middle, halfwaydown). PLEASE specify that the donation is for Caprice or the Kluesner Fosters! 
*You can also mail a check to Jett and Monkey's Dog Shoppe at 503 E Locust St, Des Moines, IA 50309. Checks can be made out to Fluffy Butts Rescue. Or stop in the store! Chances are, you will be able to meet Caprice! 
*You can also call or message Jennifer through the JAM facebook page to see about sponsoring food, toys or sweaters for Miss Caprice. You can also like their facebook page to stay updated on her! 
* If you are interested in adopting Caprice, check out her petfinder link. Her adoption fee is $300. 
And, finally, we need YOUR help in finding Caprice her forever home. Share this article, share her story. Let's show this sweet girl that family is forever and give her a loving home to live out her senior years.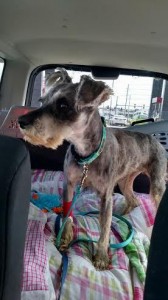 CAPRICE SAYS THANK YOU!
–Mindi, Bailing Out Benji