One Way to Celebrate National Pet Day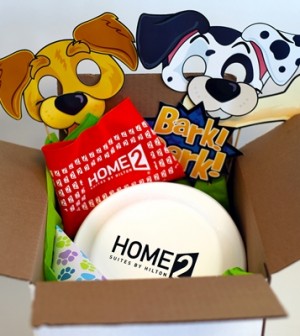 This Monday, April 11, 2016, is National Pet Day. We know you'll celebrate in your own way, but if you are traveling and need lodging, here's a little something to consider.
SIR CHARLES BARKLEY THE FRENCH BULLDOG TO HELP
HOME 2 SUITES BY HILTON UNVEIL LATEST "FRESH NEW WAY" VIDEO ON NATIONAL PET DAY
Pet-friendly Hotel Brand To Host Nationwide "Yappy Hours" Including Complimentary Toys for Four-Legged Guests
MCLEAN, Va. – April 5, 2016 – With 65 percent of U.S. households owning pets*, it's no secret Americans adore their four-legged family just as much as their two-legged kin. With that in mind, Home2 Suites by Hilton, Hilton Worldwide's mid-tier, all-suite hotel brand, is celebrating National Pet Day with more than 80 parties nationwide and the release of its latest "Fresh New Way" video showcasing the pet-friendly brand.
"So many people love their four-legged friends, and embracing our pet-friendly culture on National Pet Day seemed like a natural way to introduce our 'Fresh, New Way' video," said Christian Kuhn, vice president of marketing, Extended Stay Brands. "Home2 Suites by Hilton focuses on helping our guests shape their stay with amenities that fit their lifestyle, and making it easy for travelers to bring their pets achieves this."
Every Home2 Suites property will offer National Pet Day parties on April 11 that will include gifts like bandanas and Frisbees to encourage guests and team members to bring their pets to join the fun events. The nationwide celebrations will culminate with a feature party at Home2 Suites by Hilton Seattle Airport, where Sir Charles Barkley the French Bulldog will serve as a special party host for festivities that will also include a pet-adoption event with Emerald City Pet Rescue.
In tandem, Home2 Suites will also launch its latest "Fresh New Way" video that focuses on the pet-friendly culture of the brand. In the hidden-camera short, the central character is "Colby" a bearded collie who interacts unexpectedly with Home2 Suites guests, striking up a fun conversation talking about their day and hotel stay. The video will go live on National Pet Day atwww.home2suites.com/freshnewway.
With more than 80 hotels, Home2 Suites by Hilton offers easy access to technology and inviting community spaces, as well as the trademark Home2 Suites amenities standard in all properties, such as the Oasis lobby area, the Home2 MKT for grab-and-go items, the Spin2 Cycle, a combined laundry and fitness area, and complimentary continental breakfast at the Inspired Table that includes a variety of morning favorites like a hot breakfast sandwich. Home2 Suites' all-suite hotels feature full kitchens and a business center with complimentary internet and wireless printing. All Home2 Suites properties are pet-friendly.
Home2 Suites by Hilton participates in Hilton HHonors®, the only hotel loyalty program that allows members to earn Points & Miles® on the same stay and No Blackout Dates on reward stays. HHonors members always get our lowest price with our Best Price Guarantee, along with HHonors Points, digital check-in and no booking fees only when they book directly through Hilton.
Read more about Home2 Suites by Hilton, a part of Hilton Worldwide's (NYSE: HLT) industry-first All-Suites portfolio, athome2suites.com and news.home2suites.com.
*American Pet Products Association
About Home2 Suites by Hilton
Home2 Suites by Hilton, one of the fastest growing brands in the history of Hilton Worldwide, is a mid-tier, all-suite award-winning extended-stay hotel concept designed to offer stylish accommodations with flexible guest room configurations and inspired amenities for the cost-conscious guest. With a commitment to environmentally friendly products and hotel operations, Home2 Suites offers complimentary breakfast selections with hundreds of combinations; innovative and customizable guest room design; laundry and fitness area; complimentary Wi-Fi Internet access; multiple outdoor spaces; 24-hour business center; expansive community spaces; and a pet friendly environment. Hilton HHonors members who book directly through preferred Hilton channels receive instant benefits, including an exclusive discount that can't be found anywhere else, free standard Wi-Fi and digital amenities like digital check-in with room selection and Digital Key available exclusively through the industry-leading Hilton HHonors app. Visit home2suites.com for additional information or home2franchise.com for franchising opportunities.