Celebrate pups on the patio with CRAVE Omaha, Pets in Omaha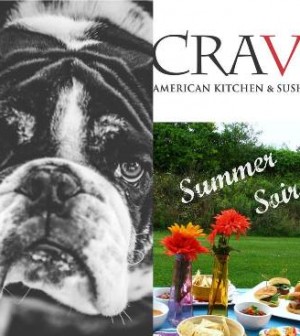 One year ago, CRAVE Omaha, a pet partner of Pets in Omaha's and a midtown favorite restaurant, became eligible to host patrons with pups on its patio. And to celebrate the one-year mark for CRAVE Omaha, the restaurant and Pets in Omaha are co-hosting a "Summer Soiree" with people and pets alike.
On Wednesday, July 5, 2017 from 5 p.m. until 8 p.m., come to CRAVE Omaha (200 S 31st. Ave. Suite 4103) for fun with friends, signature cocktails, special treats for dogs, and more. The first 25 dogs attending the event will receive a free treat care of the CRAVE Omaha chef.
As well as CRAVE Omaha and Pets in Omaha, Muddy Paws Second Chance Rescue and Promise 4 Paws Dog will be hanging out with adoptable animals. Bring your well-mannered dogs, help us celebrate this special occasion, and get tuned in to all the Omaha pet community has to offer!
Click here to read about CRAVE Omaha.
To RSVP (not mandatory) to the event, visit the Event's page on Facebook.