Chance Needs A Forever Home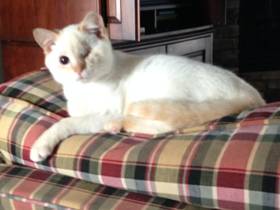 The Holiday Season is here and nothing warms our hearts at Pets In Omaha more than helping an animal get adopted, especially this cold time of year. We are putting Chance in the spotlight today, in hopes of getting him adopted just in time for Christmas. Chance is from the amazing no kill cat shelter, Feline Friendz and is currently being fostered. I'll let Chance introduce himself…
"My road to a new life began on October 18th.  That's the day a nice lady (who I'd later call my foster mom) saw what bad shape I was in and offered to find me some help.  I had been living on a goat farm with a lot of other cats.  I was tiny (1.7 lbs), sick and hoping for someone to take care of me.  This wonderful cat rescue group, Feline Friendz, arranged for all of my medical care, and my foster mom nursed me back to health.
I feel so much better these days.  My favorite thing in the world is to play with toys and my current roommate, Bailey, a little black and white Shih Tzu, who I think looks more like a skunk than a dog….but I digress.  Snuggling and eating are two of my other favorite activities.  I absolutely love to crawl up on my foster mom's chest and purr the night away.  If you're looking for an affectionate cat with a fun personality, I'm your boy!
Most of my health issues have been resolved.  I was born without a left eye so the nice veterinarian stitched me up like a pro.  He discovered that I have a condition called megaesophagus that I'll have my entire life.  There are some easy tricks to help manage it, and I don't let it slow me down much.  I will have a bout of sneezing every once in awhile, and sometimes I make these cute little gurgly sounds, especially when I'm cleaning myself.   For that reason I should go to a smoke-free home.  But other than that, I'm a pretty healthy young boy just looking for my forever home.  Ask my foster mom anything, she'll tell you all about me and my story.  Her contact info is Tina Nelson, tmnelson@cox.net and phone # 402-216-1532.
So, are you willing to take a Chance on me?  I promise I won't let you down.
Love, Chance."
Our hearts melted after reading this from our friends, Feline Freindz. What an incredible, sweet boy. Please share and encourage someone to take a chance on Chance.