Can you give Chase the Husky a home?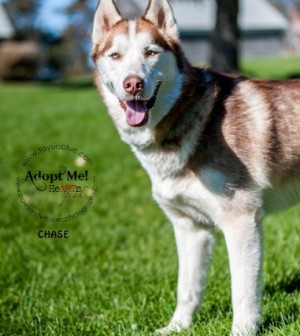 This week, we shine the adoptable pet spotlight on a beautiful husky from an amazing Husky/Malamute Rescue shelter called Taysia Blue. We introduced Taysia Blue to you a few weeks ago. Read about their work here.
"Chase is a young, goofy boy who will keep you on your toes," says Taysia Blue.
He's been up for adoption for too long and is just itching to get in to a forever home. Chase knows how to SIT, stay DOWN and OFF. He sits and waits for his food, too. Chase loves to snuggle and will cozy right up on your lap. He loves all types of weather and loves to get his tan on! He is super friendly and loves other dogs. It's his wish to get adopted in to a forever home with another play mate. He is a natural born husky so he, of course, pulls on the leash. Going on walks will eventually teach Chase to not pull. Chase is an athlete and will need a 6-foot privacy fence.
Description (given by Taysia Blue):
Breed: Siberian Husky
Gender: Male
Color: Red & White
Age: 1-2 years
Energy Level: High
General Condition: Excellent
General Health: Healthy
Interaction with humans: Playful, affectionate
Interaction with other dogs: Plays hard
Interaction with cats: Not recommended
Training notes: Chase would benefit from a beginning obedience class and focus work.
Location: Omaha, NE
Jackie Roach from Taysia Blue says, "He needs work with crate training still, needs another dog his size and a six foot privacy fence…..typical young husky that needs to learn boundaries, some rules and absolutely need an exercise routine."
Chase is looking for the right home, will you pass on the message and help get Chase adopted?
Read about Taysia Blue's Adoption Policies Here