Canine Assistant brings Pet Therapy to Children's Patients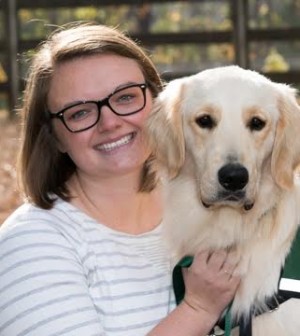 If your child ever needs to be hospitalized at Children's Hospital, you can rest assured that myriad resources are available to improve their experience. Among the offerings are the Carolyn Scott Rainbow House for families that live more than 60 miles from Omaha, social workers, child life specialists, pastoral/spiritual care, and pet therapy. Yes! Therapy dogs have become more common in hospital settings, and Children's is happy to provide patients with access to pet therapy dogs, as well as a specially trained resident facility dog.
"For children, the ability to interact with a certified therapy dog can have a very positive impact upon their quality of life," says Children's web site. "Interacting with a pet can sometimes enhance recovery following a serious illness."
Certified canines come to Children's Thursday mornings for about two hours to visit patients. Therapy dogs meet infection control guidelines, and are escorted to the patient rooms by trained volunteers or child life specialists.
In mid-November of 2016, Sven, a two-year-old golden retriever, joined the Children's staff and became its first resident facility dog. He brightens days for everyone around the hospital- patients and staff. And though he is specifically there for patients, he's made an impact on everyone he meets. From an article Children's published for readers late last year, it's very clear Sven has great value to all.
Follow Sven on Instagram @SvenatChildrens
He's a 40-hour-a-week employee with patients to see and therapy to facilitate. Sven is not only popular—he's busy, too. Busy not only bringing joy to people around the hospital, but busy making a big difference in the stay of every patient.
"The facility dog assists our Child Life staff in providing support and normalization in the hospital setting," says Terry Patterson, Children's manager of family resources. "This is more than just a diversion; this is therapy."
It's that distinction that sets Sven apart from Children's handful of pet therapy dogs and volunteers.
While Sven and his canine colleagues do provide a distraction or "diversion," science proves over and over that these animals have a deep impact.
Britta Carr, a certified child life specialist is Sven's handler. The Child Life team offers patients and families psychosocial support while hospitalized. They are experts in child development and promote effective coping through play, preparation education and self-expression activities. Britta and Sven work and live together 24/7.
Carr says she wanted to be a veterinarian when she was a child. She also loves kids, so she's found the perfect job, she said in a recent Children's publication. Carr worked with Sven in Atlanta before he came to Children's in Omaha; he's a graduate of Canine Assistant's Hospital program. In his months of training, says Karen Casto, director of the program, Sven was exposed to all aspects of human life in the hospital. From noise coming out of machines to meeting all kinds of people in all kinds of circumstances, Sven was trained to do a very special job. Interestingly, handlers use no commands with the therapy dogs; it's a relationship built on trust. Sven's bond with Carr is strong. And he's a good motivator, too.
He provides therapeutic services for patients in outpatient and inpatient programs, sometimes helping to get patients to comply, take medication, or participate in group therapy. Surely it's hard to say no to Sven. And surely it's a great thing to have Sven and the caring medical professionals at Children's when a tough procedure looms or a treatment program is uncomfortable or painful.
And though his job description is to help and encourage patients who are in various stages of life, he's a great asset to staff as well. If anyone has worked in a hospital, been a patient, or visited a sick or dying family member, one understands hard days are not uncommon in that setting. Sven is there to lean on should a nurse or other staff member need a little support.
It's no wonder Sven is the most popular staff member at Children's.
Casto says that "Hospital placement has really been within the past few years, so it's a fairly new thing nationwide," but that "It's catching on…because everyone sees the benefits of animal-assisted therapy in health care."
Thanks to Sven for his service, to Children's staff for the amazing work they do, and thanks to Sarah Weller and Suzanne Rogert for introducing us to Sven and the therapy dogs working to bring comfort and smiles to patients throughout Children's.