Construction workers, Nebraska Humane Society save frozen kitty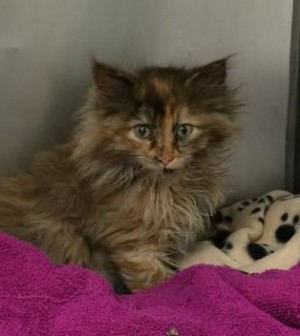 Here's a recent note we received from Pam Wiese of the Nebraska Humane Society. What a wonderful story that will hopefully have a happy ending! Also it's a reminder to keep pets safe in this cold!
"This past Monday, November 17,  a 9-week-old kitten was brought into the Nebraska Humane Society by some compassionate construction workers who found her downtown near 20th and Leavenworth.  Little "Popsicle" was limping and was found to be suffering from frostbite on both back feet. Her tail also has frost nip. The NHS medical team has been working to save Popsicle's feet, using hydrotherapy (warm water baths) to stimulate blood flow and help remove dead tissue.  At this point, one foot is responding well, but the vets are unable to say whether the other limb will make it.
This serves as a stark reminder of how cold weather and lack of shelter can adversely affect our pets.
Please make sure that all pets have access to a dry, wind free, insulated shelter.  Please make sure they have food and unfrozen water. Better yet, bring them inside during this deep freeze!
PS:  Popsicle is on pain meds and is resting comfortably in a cozy kennel."