Council Bluffs Fire Dept. saves five four-legged lives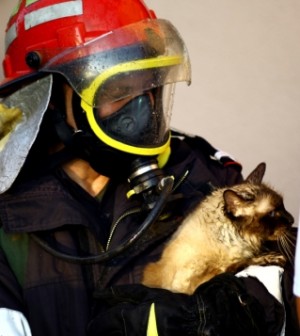 Last Wednesday, Council Bluffs Fire responded to a burning mobile home to do what it always does- protect people and property. And though there were no people inside to rescue, the fast-acting firefighters did save five other lives.
When one fire captain approached the home, according to this Omaha-World-Herald article, he heard some high-pitched screams. The sound was coming from a playpen that held five three-week-old puppies. The home's owner said she was amazed at the speed and reaction from the fire department.
The puppies were quickly administered oxygen from pet oxygen masks that nearly all local departments now have. And though the pups suffered a bit of smoke inhalation, they are all expected to recover thanks to the firefighters and antibiotics that will prevent lung infection.
Just in time for the holidays, one pet owner is receiving a wonderful gift- five lives spared thanks to our local public safety providers.
Thanks to the Council Bluffs Fire Department, we're happy to highlight this story rather than another sad one that could have been told.
A tip: A sticker can be placed in your front window that tells first responders that you've got animals inside. There are many varieties (here's one) and each tells visitors the number and kind of animals you've got inside.