Discover essential oils for you and your pet from Melaleuca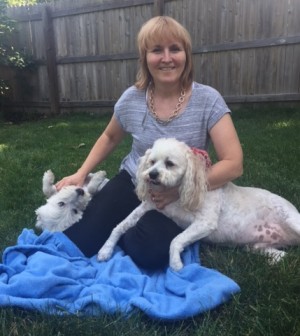 Essential Oils have become a growing trend in health and well being. Spa Balls, bottles of solution, and sprays can be found in your pharmacy, grocery store, and online shopping sites. They are everywhere it seems, and it may be hard for you to know which products are best.
Melaleuca, a decades-old company, was helping people gain the health benefits of using essential oils long ago. Locally, you'll do well to try and love the company's products through Aileen Boone. She's an Air Force Physical Therapist and wellness consultant who is passionate about helping people improve their health. She markets and stands behind Melaleuca's healthy  living products and we're happy to let our readers know about the line.
Boone has been promoting the company's products for some time. "I have been in the healthcare field for 30 years and have been marketing for Melaleuca for 5 years now," she says. "Melaleuca was the missing link to my PT practice.  The company is all about the prevention of health problems using the best of science and nature."
The company was founded 32 years ago by Frank Vandersloot.  He discovered the healing properties of Melaleuca Tea Tree Oil and started the company with eight products.  Tea tree oil is an antiseptic and solvent  and was used in WWII medicine kits. The company is based in Idaho Springs, Idaho, manufactures the products, and sells them in their stores.
"I educate people on the toxins found in common American products," Boone says. " Seventy-five percent of common household cleaners contain formaldehyde, a known carcinogen. I then help people set up their shopping accounts with Melaleuca's online store."
Melaleuca is the largest employer in Idaho with over 3,000 workers.  Ninety-nine percent of the products are made right here in the U.S..  Melaleuca has paid out over $4.6 billion in commissions and residual income to marketing executives in 20 different countries since 1985.
What sets the business apart from others like it goes back to the notion that many healthy living products are purchased one time, then consumers move on finding out the nature of the product and its results. "Everyone who is a customer has been told by another customer," Boone says. "They do not pay the high prices in order for us to advertise. Our supplements are patented and backed by two independent research studies which have shown significant reduction in Cholesterol, Triglycerides, blood pressure, heart rate, and more."
The Melaleuca products are made with essential oils and are safe for children and pets. They do not have or need child proof caps. Melaleuca's products are very versatile and can be used as ant sprays and bug sprays, they kill aphids, and can be used outside on farm animals.  They also utilize their Oligo fructose compounding to make a joint supplement for dogs.  The company recently developed a grain free treat line for dogs.
The company boasts an A+ BBB rating. More awards and recognition can be found at www.melaleucaawards.com.
Boone's website is www.melaleuca.com/aboone  and her email is aebforgiven@gmail.com. Contact her for information, help, and to initiate a purchase.

"The company saves you money and time through its painless online shopping," Boone says. "The products are highly concentrated and we add our own water to the cleaning line, thus making our cleaners about 97 cents a bottle.  They have a 60 day money back empty container guarantee (even on the supplements)."
"I enjoy promoting a company that I can truly trust," Boone says of Melaleuca. "They have not had one law suit against them since they opened in 1985," proving the company's trustworthiness and wonderful track record.
Boone trusts the products enough to use with her two doggies, Jack and Dustin.  "We rescued Jack in Germany; he's a Westie. We rescued Dustin in St. Louis a year after Jack.  "They have kept me sane and also got me out for exercise," Boone says.
To find out more about the products, visit Boone's website or email her at the links provided above. Pets in Omaha is proud to have Aileen Boone as a partner and we hope you will consider giving Melaleuca's products a try to improve your (and your pets'!) health and well being.