Discover Long Dog Fat Cat in Omaha's Midtown Crossing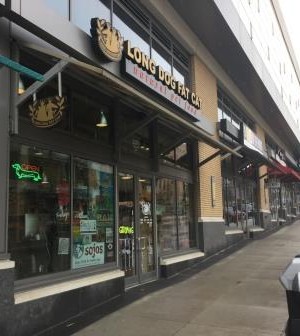 Long Dog Fat Cat (LDFC), a Pets in Omaha Pet Partner and staple in our pet community, opened its Midtown Crossing location just weeks ago, but is already very comfortable in its new digs. A leader in Omaha's rescue and pet event scene, LDFC is now recognizable in three parts of town: Village Pointe (its original location), Loveland near 90th and Center, and 32nd and Farnam, just west of Turner Park.
A year ago, Three Dog Bakery closed its doors in Midtown, leaving the neighborhood devoid of a natural pet food store/bakery/anything of its kind. The nature of the area (many restaurants and most businesses there are pet-friendly) has made the adoption of LDFC seamless and the store is a welcome sight for pet owners left without a nearby store featuring LDFC's services.
"We see new people all the time," company manager Eric Nault says. The store is already catering to a few regular customers and, he says, many who live downtown or in Council Bluffs frequent the Midtown LDFC now that there's a location closer to their homes. Foot traffic is up and all events hosted or sponsored by LDFC this year will be run out of the Midtown location, so Nault expects things to be hopping as the weather warms.
"We know people will love our store," he says. Customers can be assured that LDFC on Farnam will have "good products, competitively priced," just like other store locations.
The store is beautiful and clean. The grooming area, lead by groomer Alyssa, can accommodate multiple dogs and will soon be equipped with self-wash capabilities for customers. As the 90th and Center location is often booked up (especially its Saturday schedule), the team invites folks to visit 32nd Street when it's time to freshen up.
Shelves are piled high and neat with the colorful, organic bags of food from brands people love. Nault says he is especially proud to carry local brands like Mazzy Co. and Tender and True alongside products like compressed yak cheese and water buffalo horn from the Far East (Nault suggests customers fill the horns with peanut butter, freeze them, and let dogs work for hours). The centerpiece of the store is a super slick-looking bakery which displays fresh daily treats on its counters- some of which are less than a buck.
Meet and Greets with local rescues will continue to be a mainstay at all LDFC locations featuring Omaha favorites like Heartland German Shepherd Rescue, Little White Dog, and Hands, Hearts & Paws, among others. With Turner Park a stone's throw away, you can bet LDFC will be visible all summer long at pet-friendly events there, and everywhere else around town (including as a Diamond Sponsor at Pets in Omaha's July Pick-a-Pooch Adoption Days at Ralston Arena!).
A couple of features are unique to the Midtown location and serve the bustling nature of the neighborhood. Customers can call ahead, place an order, and have products brought outside using the new drive-thru service. Also special to the Farnam store is the relationship LDFC is building with neighboring condos and apartment buildings. Nault has been working with concierges at many complexes to offer residents a convenient drop-off service. "We want our neighbors to know that all they've got to do is call and we'll deliver their pet's food right to their door," he says. "They don't even have to leave the house."
Customers (and anyone!) can come celebrate the new store any day, but an official Grand Opening Party is set for April 14, 2018. Heartland German Shepherd will be there with adoptable dogs, promotions and sale prices will be plentiful, and party-goers can enjoy free drinks from Tap Dancer Specialty Coffee. Find out more about the Grand Opening event on Long Dog Fat Cat's Facebook page here and be sure to check out the event's highlights on our Events page.