Discover Omaha's Woof & Whiskers!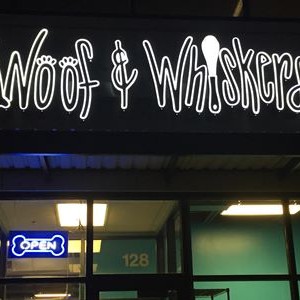 When you walk into Woof & Whiskers, Omaha's newest pet supply store and bakery, owners Kendra Blessie and Kramer Martin hope you'll feel like part of the family. And along with the welcome feeling, Blessie and Martin hope to provide the best selection of food, toys, treats and baked items in Omaha.
The business was started by Blessie, Martin, and the soon-to-be-married couple's dogs. "We are just regular, everyday people going into a fun business we are passionate about," Blessie says. "We have four rescued dogs and they (Dakota, Jameson, Pistachio and Jada) have tested every product. They love the perks of owning their own business!"
Celebrate Woof and Whiskers with a Grand Opening "Pawty" on Small Business Saturday, November 25, 2017. Click here for details. 
Blessie has worked in the pet industry since she was 17 years old. After being a supervisor for a doggie daycare and boarding facility for three years, she went on to manage two locally-owned natural pet food stores for six years. "I have had lots of training based around nutrition for pets and have traveled consistently to broaden my knowledge, staying in the loop with new products and information," she says.
Martin has been her constant supporter and a big reason why she's decided to chase her dream of owning her own store. The couple started Woof & Whiskers LLC in May of 2017. It's truly a family business, operated with the help of Kendra's sister, Shondra, the lead "pawstry" chef.  Their parents are also very involved, having business ownership experience of their own.
If you've ever started a small business, you know how much it takes to get up and running, Blessie says.
"Our family did everything at this business from tearing down walls and ripping up carpet to putting up new drywall and rolling paint. We literally had our hands on every part of this place and that is what makes us different. We are proud of the store we created with our own hands."
Blessie has seen all sides of the pet industry, using all she's learned in creating Woof & Whiskers. Woof & Whiskers has added many amenities people love, including a self-wash room to its new space. It's a private room as staff understands how stressful it can be to take pets in public, trying to get them to behave for a bath.
Rescues and shelters are a huge part of Blessie's life so, naturally, humane organizations will be a big part of the business' focus. "All of our personal dogs came from rescue groups and I have worked very well with just about every group in the area, plus the Nebraska Humane Society," she says. Rescue groups and foster parents are welcome to bring adoptable pets into the store at any time for exposure. "We plan to have Meet and Greet events as much as possible." The location, 3506 N 147th Street, was chosen based on the size inside and out for these types of events. Blessie not only supports local rescue groups and shelters, she support them all over. As an example, she makes yearly trips to donate to a small, underfunded shelter in Parsons, Kansas.
In January, the Three Dog Bakery locations in Omaha closed. As the manager of both stores, Kendra says she has missed her customers and their fur kids more than anything. It was a very sad time to have to say goodbye to the people that had followed her during the last nine years, but she's hopeful and excited to see them all again at Woof & Whiskers. "Working for Three Dog Bakery was by far the best experience I have ever had," she says. "Seeing my customers and recognizing faces as we soft opened on November 3 was the most emotional ride for me! I am just excited to see everyone again and get greeted by pets every single day."
Woof & Whiskers is now open, so stop on by to get to know (or get reacquainted with) the team. Follow the shop on social media by visiting its Facebook page here.  You can also reach the store through email (woofwhiskersinfo@gmail.com) and soon on its website. Shipments are arriving by the day and the store will be filled up in the coming weeks.
Hours are Monday-Saturday 10:00 AM – 8:00 PM,  Sundays 12:00 PM – 5:00 PM.
One of the first events at the store will include "Accept-A-Bull" doing Santa Photos for $15 on Sunday, December 3 from 12 PM – 3 PM.
All proceeds will go towards supporting their Spay & Neuter Program and the staff would love to see you there! Click here for more info.