Dog on Adventures: Celebrating culture in Omaha with pups!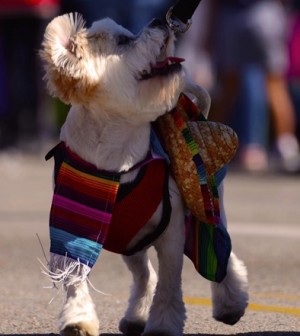 Omaha is a diverse city with many new, established, and interesting cultures adding to communities. Celebrations of heritage take place all year, from St. Patrick's Day to Chinese New Year to a recent celebration of Cinco de Mayo. Make note of cultural festivities and see when you and your dog can celebrate together!
Saturday, May 6, 2017 was the perfect day for a parade! Thousands lined Historic 24th Street in South Omaha. Many of those happy faces belonged to dogs. The Omaha Cinco De Mayo Parade was much more than just a parade. It was a celebration of our community.
It's a common misconception that Cinco De Mayo is the celebration of Mexico's Independence. Mexico's Independence Day is actually celebrated September 16. That day commemorates the Cry of Dolores, an event that initiated the war of Mexican Independence from Spain. Cinco De Mayo celebrates the Mexican Army's defeat of the French at Puebla, on May 5, 1862 under the leadership of General Ignacio Zaragoza.
Omaha's Cinco De Mayo Parade is one of the largest parades in the Midwest. Omahans know how to put together an event, just as we know how to take care of our pets. Along the parade route, one could find unparalleled Spanish dancing (the dresses were out of this world), marching  bands, horses, a representation of local businesses and even the Nebraska Statehood 150 float. Many local businesses had water bowls and treats available for canine spectators along 24th Street.
This event not only promotes Mexican culture in a positive environment, it supports our local businesses as well. Paco and I stuffed our faces at El Chavo.  They have the best authentic tacos we've had since I adopted him in Tijuana! El Chavo is located on 24th and I. For more information and their hours of operation, click here. Go get a taco!
If you missed out this year, be sure to pack up your pup for Cinco De Mayo 2018. The parade has a 10 am start time every year. We suggest getting there a little early so Fido has a nice vantage point. If you're bringing the kids, bring a bag. The entertainers hand candy out throughout the parade. A lot of it. Halloween needs to step up its game this year.
Paco and I had a superb time. There's nothing like an event that brings all people and pets of all cultures together to bond and celebrate as a community. Celebrations like this one make me especially proud to be from Omaha.
Have a celebration of culture in Omaha that's dog friendly? Give us a shout and we can give a report and spread info about the event!