Doggie Dips Scheduled at Omaha Pools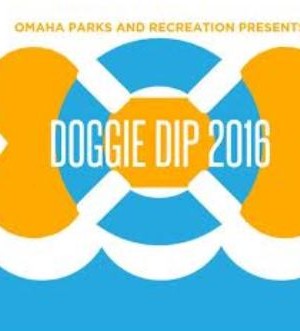 July in Nebraska was hot and it will only get hotter in August. So pack up the dog, your swimsuit and $5, Doggie Dip Days are back at select City of Omaha Pools. All proceeds go the Nebraska Humane Society (NHS).
Five dollars includes swimming for a dog and two owners. Any additional human costs $1.
Doggie dip days is a partnership between the Omaha Public Pools and NHS that began eight years ago.
Around this time each year, the pools are getting ready to close for the season. Schools are soon resuming and after a season of swimming, the pool filters are due to be cleaned. Doggie Dips are scheduled on the last day for each of the pools.
As the event grew in popularity, so did the number of pools participating. There are now three pools participating.
Last year over 800 dogs and over 1,000 owners participated in doggie dips, raising more than $4,000 according to Pam Wiese, Vice President of PR and Marketing at NHS.
Although it is a growing event in Omaha, not all dog parents know about the event.
Francesca Ferro had never heard of the event until recently and is excited to take her two-year-old black lab Luke for the first time.
"The 7th I'm coming back from Niobrara, but I will make one of the other two dates. It sounds like so much fun," Ferro said.
Ferro said that Luke loves the water and swims pretty good. But some dogs don't swim well and it's important to remember that dogs can get just as stressed as their owners.
"We thought about going [to doggie dips] but we weren't sure if he would like the water," Becky Pockett, pet parent of Max a six-year-old Japanese Chin, said.
If you aren't sure if your dog can swim or if they don't like water, don't bring them to the pool. Instead, try a splash park or set up a sprinkler in your yard for them to cool down in.
If your furry pal is down for swimming Wiese, the NHS and the Omaha Public Pools encourages you to show up.
"People should bring dogs on a leash, and be prepared to get wet," Wiese said.
Public Pools hosting doggie days include:
Lee Valley Pool–  10605 Charles St.
Sunday, August 7, 2016
5:30 pm- 7:00 pm
Cryer Pool– 11783 Cryer Ave
Wednesday, August 10, 2016
6:00 pm- 7:30 pm
Gallagher Pool– 2936 N. 52nd St.
Sunday, August 14, 2016
5:30 pm- 7:00 pm