Dogs on Adventure: Stand up Paddleboarding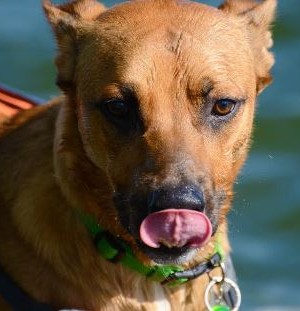 Summer is here! Your swimsuit is stuffed in the back corner of your dresser. Does the idea of pulling it out fill you with dread? If I told you there is an easy activity to get in shape that your pup can share, would you believe me? Allow me to introduce you to my personal favorite water sport, Stand Up Paddle Boarding (SUP).
Paco, my puppy, and I fell in love with SUP during our time in Newport Beach, CA. It's what I like to call "accidental exercise." Once you get the hang of it, you feel like you're walking on water. In addition to being super fun, the health benefits are amazing. You'll immediately notice how much better you feel. You might be a little sore as you use practically every muscle at some point during a paddle – then, you'll feel great!
SUP improves balance, is extremely low impact exercise and will dramatically increase your strength without risking injury. For me, the most rewarding aspects are stress reduction and an additional opportunity for Paco and me to bond with nature.
SUP originated in Africa. Men would stand on canoes and use a paddle to propel themselves forward.  They used this method in an attempt to conduct stealthy attacks. By the 1990s, Hawaiian Surf schools were teaching SUP as an alternate way to surf when there wasn't much swell. In 2003, Brian Keaulana added "Beach Boy Surfing" aka SUP to the "Buffalo Big Board Contest."  The response to this new category was huge! In 2012, Kai Lenny won the first Stand Up World Series Championship Race.
Grab your (and your pup's) lifejacket and hit the water! Lake Manawa, Lake Zorinsky or anywhere with limited-to-no-wake are great places to get started.  After you and your pup have figured out your balance, a paddle down the Platte River is a must! You and your best bud will spot nesting Bald Eagles, Great Blue Herons and, depending on the season, Sand Hill Cranes.
If you'd like to dip your toe in the water before investing in a board, (on the low side, $350) Driftwood Paddle Adventures offers classes and tours. For all my fellow Yoga enthusiasts, SUP Yoga is available as well. For more information on Driftwood Paddle Adventures and their class/tour schedules, click here.
SUP is amazing fun for the whole family! Although it is a summertime sport, a wetsuit will keep you paddling practically year round. Paco and I hope to see you on the water soon!