Dogs on Adventures – Omaha's Lauritzen Gardens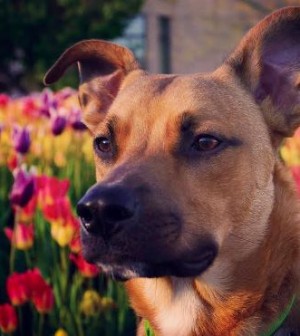 Being a regular at Lauritzen Gardens, I can't count the times I've said, "Paco, (my puppy) would love it here. I wish I could bring him." Well, wishes do come true! Lauritzen has "Gone to the Dogs!" Let me tell you, it couldn't have been any more pawsome!
Lauritzen Gardens is a convenient escape into the wonders of nature, right in the heart of Omaha. You'll discover a flawlessly maintained 100 acres of plant and flower displays. Roam at your leisure. Each trip will be completely different than the last. The gardens are in a magnificent state of transition all year round. At Monday, May 3's Leashes at Lauritzen event, we were surrounded by the vibrant color schemes and lustrous smells of tulips. Paco and I were in nose heaven!
Leashes at Lauritzen is the perfect event for socialization, people and pups. Paco and I both made great new friends. Dogs of all sizes and ages came out for a new adventure. The staff at Lauritzen went the extra mile to accommodate their four-pawed visitors. Water and treat stations were located throughout the grounds. I can't say that I've ever seen so many tails waggin'.
Did I mention the swag? My little guy is still all "puppy power." Even though we spent most of our time smelling new plants and giving puppy kisses to unsuspecting humans, we did manage to snag a very neat swag bag from the Urgent Pet Care booth. Also in attendance: VCA Animal Hospital, Paws to Angels, The Paw Spa Pet Resort, and Long Dog Fat Cat. Huge THANKS to the sponsors who helped make this event and future events possible! And while we're at it, thanks to the same sponsors (in bold above) that support us at Pets in Omaha.
Not to worry if you and your pup missed the kick-off event in 2017. Lauritzen Gardens will be "Going to the Dogs" again on June 5, July 3, August 7, September 4 and October 2 from 5:00pm-8:00pm.
Details:
People Admission: $10/Free for Garden Members
Dog Admission: $5/Free for Garden Members
No more than two dogs per adult. All canine guests must be up to date on their vaccinations and have a current rabies tag attached to their collar. Everyone must stay on a leash. Parents- scoop that poop.
Paco and I hope to see you at the next event. This is a superb opportunity to get out, explore, and stop and smell the flowers with your best friend. If you are interested in becoming a Garden Member, click here for more information.