Dogs training to become companions for military vets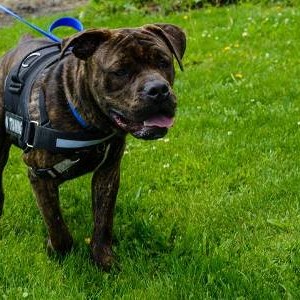 Here's a cool story from Iowa's Animal Rescue League detailing four dogs who will receive basic skill-and-manners training from Clarinda Correctional Facility inmates. After weeks of training, the dogs will be placed with military veterans who will benefit from having companion/service dogs.
Four dogs from the Animal Rescue League of Iowa (ARL) are starting training to become companions for veterans. Their training program begins at the Clarinda Correctional Facility in Clarinda, IA. Eight offenders will work with the dogs for six weeks training them in basic skills and manners. At the end of the program the dogs will be adopted to veterans.
ARL pet behavior staff have worked with Clarinda Correctional Facility staff and the offenders selected for the program to teach them positive reinforcement techniques that will be used to train the dogs. The dogs will receive daily training and socialization to help them develop into well-mannered companions for the veterans they'll be placed with. The training program follows the Canine Life and Social Skills (C.L.A.S.S) developed by the Association of Professional Dog Trainers.
Tom Colvin, Executive Director of the ARL says, "The ARL has seen the benefit of having offenders work with animals through previous partnerships with the Iowa Correctional Institution for Women (ICIW) in Mitchellville, IA, and North Central Correctional Facility in Rockwell City, IA, and we are looking forward to our new partnership with Clarinda Correctional Facility. The dogs in this program will receive the training they need to be good canine citizens, the offenders working with the dogs are given the opportunity to make a positive contribution to society, and the veterans the dogs will be adopted to will get a well-mannered companion to comfort them."
At the end of the program the dogs will "graduate" and return to the ARL to be placed with a veteran, and a new class of dogs will begin.
The program is not funded by tax dollars and relies on private donations. If you would like to donate to the program or help underwrite the adoption cost for a veteran, visit ARL-Iowa.org/Donate and reference "Clarinda."
Follow the Animal Rescue League of Iowa on Facebook at Facebook.com/ARLIowa or subscribe to our weekly e-newsletter on our website at ARL-Iowa.org to hear more about this program and help us celebrate the first class of dog graduates this summer!