Dogs from Turkey find new home thanks to Golden Retriever Rescue in Nebraska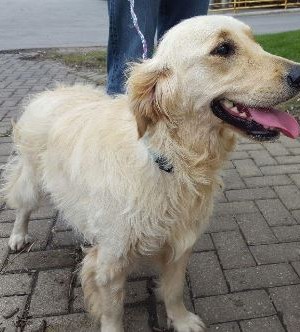 On Friday, May 20, five Golden Retrievers landed in Chicago International Airport after an 12-hour flight from Istanbul, Turkey. Golden Retriever Rescue in Nebraska (GRRIN) has been working with several organizations to bring the dogs to the United States and is pleased to announce the pups are finally here.
GRRIN's mission is to help any Golden Retriever that needs it, even when it exceeds borders. So when the opportunity arose to rescue Golden Retrievers from Turkey, the group was excited.
"The board of directors very thoughtfully considered accepting these five dogs, and GRRIN volunteers and supporters have jumped at the opportunity to help," said Barbara Garrett of GRRIN.
Golden Retrievers, and all dogs for that matter, are treated much differently in places like Turkey. According to the group, many of the dogs are homeless and live on the streets or in forests after they are spayed/neutered and given rabies vaccines. A sort of trap, neuter, release for dogs.
"Because Golden Retrievers are not effective pack dogs and are of gentle nature, their odds of surviving on the street are not favorable," the group said.
GRRIN says that there has been a 50 percent drop in dog surrenders since 2010 while an ever-growing list of families waiting to adopt exists. Some of these families even wait over a year to adopt from GRRIN. Choosing to bring the dogs to Nebraska was a no-brainer for the rescue.
The five dogs met their foster families and will be staying with them until they can be matched with other families permanently.
For more information about GRRIN, click here.