Events Week: Attend the 2016 Puppy Up! Walk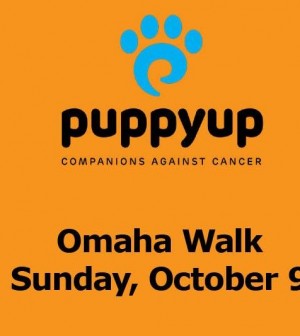 This week, Pets in Omaha is bringing you information about some of the biggest and best pet events around town. The season is winding down, so get out and support these great shelters, rescues and non-profits while the weather stays bearable!
An autumn staple in Omaha has become the Puppy Up! Omaha Walk. This year, join in the fun at Chalco Hills Recreation Area on Sunday, October 9 from 11 a.m. until 3 p.m. for a two-mile-walk to promote awareness of cancer research that benefits both pets and people.
Many have provided support, sponsorship, participation and the ultimate act of kindness in teaming with us to raise awareness, funds, and continue education in the study of comparative oncology, and the links between canine and human cancer. And for this, Puppy Up! is eternally grateful.
Your Generosity = Their Success
Because of your efforts in 2015, the PuppyUp Foundation was able to award a $96,000 grant to the University of Wisconsin School of Veterinary Medicine in Madison to evaluate the safety and effectiveness of stereotactic radiation for dogs with bone cancer (osteosarcoma, a cancer that affects dogs and children).
The foundation also awarded $100,000 to The University of Texas MD Anderson Cancer Center in collaboration with Medical Teaching Hospital at the University of California – Davis. This funding will be used to study NK Cell Therapy for dogs with osteosarcoma. Natural killer cell immunotherapy uses a subset of the dog's own immune system that is highly effective at killing cancer.
For more information on the grants that have been funded, click here.
Now more than ever, we must continue the fight and support those with cancer, honor the friends we have lost, and walk for those we can help.
Please PuppyUp against cancer and join them in their efforts.
The PuppyUp Foundation is a 501(c)(3) organization (tax id # 47-2319212).