Interview: Chris Grimes, Mindi Callison preview "Dog by Dog"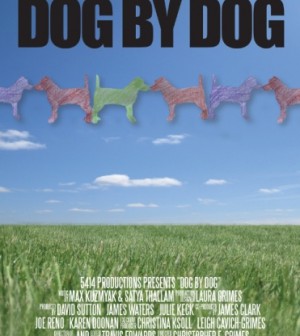 When Mindi Callison of Bailing Out Benji approached Pets in Omaha to sponsor the Iowa Premiere of Dog by Dog, and considering the potential impact the film could have, it was impossible to say no.
Pets in Omaha is proud to support the August 9, 2015, screening of Dog by Dog, a ground-breaking, educational and independently-filmed documentary aimed at bringing awareness to the tragedy that is high-volume, inhumane commercial breeding that pervades this state and others. Dog by Dog follows the money to see who is blocking efforts to regulate the dog breeding industry.  Tickets can be purchased for the Iowa Premiere here. Also, watch trailers for the film here.
Dog by Dog, a 5414 Production and directed by Christopher Grimes, is coming to Ames City Auditorium with the help of Mindi Callison, a key contributor to the documentary, Pets in Omaha and the Green Spot. We are pleased to be able to bring readers some words from Grimes and Mindi Callison before the 800-or-so viewers will be able to see the film.
Grimes and his wife, Leigh Cavich-Grimes, started 5414 in 2008 with the goal of building a small, independent production company focused exclusively on making documentaries that explore complex public policy issues.
Grimes is not only an animal lover, but an advocate for humane treatment of all living things, saying he would like to encourage the public to be engaged, ethically-minded and enthusiastic when it comes to policy issues. His belief is that animals bred for companionship should live in a safe, comfortable and happy place from the start—not a commercially-driven, inhumane facility like a puppy mill.
The education brought forth by the film is not the only teaching opportunity for 5414, however. The Educational Campaign funded by the film showings will be used exclusively to defray the cost of some screenings, help 5414 travel the country to speak to interested parties, and hopefully produce an edited documentary aimed at kids age 4 – 12 called Puppy By Puppy. To donate to the Educational Fund, visit this link. 
Grimes says he came to this documentary not as an animal activist, but as a filmmaker. "Of course I was upset seeing other documentaries on puppy mills and felt it was a huge problem. At the time, I don't think I thought that I could contribute to solving the problem," he says. That all changed when he met Christina Ksoll. She saw Grimes's previous documentary, A Second Knock at the Door, on Netflix and reached out to him about exploring the issue of puppy mills from a "money trail" angle. "That changed the deal for me and nearly 4 years after that conversation, we are bringing Dog by Dog to Ames, Iowa."
There have been other documentary films about puppy mills, but Dog by Dog aims to be different. "I think that any documentary that exposes the problem of puppy mills is extremely important to educating the public," Grimes says. "Education is the key to ending the mills." Grimes thought Madonna on the Mills was an amazing, yet horrible journey into the mills and it affected him greatly before he ever came to Dog by Dog. In his version of the puppy mill documentary, a new focus and way of looking at the issue involves "looking less at the folks in overalls running the mills and more so on the folks wearing suits on Wall Street and in the halls of power in D.C. and state capitals." This novel approach elicits more than just the despair we all feel when thinking about puppy mills; rather, it instills some amount of hope that things can change from the top-down.
Dog by Dog is/has been showing at theatres around the country, including Austin, TX , Denver, Ft. Collins, CO, L.A. and in Ames on Aug. 9. After the theatre showings, Dog by Dog will attempt to reach the masses, like the Sea World documentary, Blackfish, where it will have the opportunity to affect the entire nation.
At this point, Grimes can't say exactly where the film will go because he is in the midst of distribution discussions, but he can say this: "We have one goal: Most eyeballs in the general public that is possible. We believe that every American will be able to see Dog by Dog within the next 6 months. We have also had some amazing discussions with many international friends across the globe and we are very hopefully that within the next 12 months, the film will be available nearly everywhere."
Intention is always something one must approach gently in art. In literature, there's a concept called the "Intentional Fallacy." It states, generally. the author is the only one person who knows the true intention of the work and everyone else is at a loss. That said, Grimes's intention is clear about the impact he hopes the film will have.
He wants people to recite the all-important mantra of "Adopt, Don't Shop." He says that "Puppy mills exist because there is a market from sales to basically good people that don't know the puppy in the pet shop or on the internet was born of parents that will spend their life in a cage. I wouldn't make documentary films if I didn't believe in the power of education. I really think that people want to do the right thing and once educated about the reality of puppy mills, will choose to make a different decision." Grimes wishes we could regulate our way out of this problem, but at the end of the day, he thinks it will require the public to make different decisions when they want to bring a dog into their home.
When artists set out to create something, often the result is different than the germ that leads to a finished product. In his process of ideation and creation, Grimes says it all begins with research. "Right from the beginning, it was always research and facts that lead the way forward. The film organically comes out of that. The worst decision a documentary filmmaker can make is to define the cause of the problem before the research and thus fit the research to make the initial assumption true. In Dog by Dog, we let the research lead the way."
Mindi Callison has seen Dog by Dog a number of times already, traveling east and west to various premiere events. She's a vital piece to the film's message and her work, which began with the purchase of a pet store puppy years ago, makes her a champion for the cause.
Mindi started Bailing Out Benji four years ago when she was just 21. "I started writing about these animal welfare issues as I was learning about them," she says. "Soon, my blog was being seen by hundreds of thousands of people and I knew that there were enough people with hearts like mine who wanted to take a stand. What started out as a blog, has grown into a small non-profit organization that puts Mindi's passion into action. "We are out there week after week, no matter what the weather, making sure that those dogs in puppy mills are no longer invisible victims of a very cruel industry. Our volunteers go to auctions to save dogs from puppy mills, we transport animals for rescues and we even help with emergency rescue situations." Bailing out Benji isn't just an advocacy group for dogs, either. Last summer, Bailing out Benji helped a local rescue, Kitty City Rescue and Rehab, provide vet care, spay, neuter, feed, water and groom 50 cats from a hoarding situation.
She didn't set out on her mission to be in a documentary or have everyone know her name (though in central Iowa, they do). Mindi's passion is for animals and not fame, regardless of what her detractors say. If you ask this interviewer, she's got the biggest heart of anyone he's met.
When the documentary makers came calling, she was excited, but a bit perplexed. "Honestly, I thought it was a joke! After 2 years of protesting and being ignored by local media, there was NO way that a national documentary would be interested in our story. But it was all very real," she says. One of the producers, Karen Doonan, had been watching Mindi's protests and educational efforts on Facebook and decided that her dedication would be an important addition to the film. Grimes and Cinematographer Travis Edwards made the trek to Iowa to interview Mindi about Bailing Out Benji. They filmed protests on one of the coldest days of the year (-20 degrees). How about that for dedication? "Since then, I have been lucky enough to travel with the film when it fits in my schedule. Right now my biggest job is bringing Dog by Dog to her town of Ames, Iowa.
Mindi, like Grimes, is hopeful that the impact of the film will be profound.
"I think that once this film really hits the general public, it will be the beginning of the end of large-scale commercial breeders. Our public will wake up and start seeing the ugly truth behind the puppy in the window or on that cute website. They will vote with their money and boycott stores that sell puppies, as well as make informed decisions on where to get their animals. We will also start seeing a turning of the tides in this whole industry."
The public, Mindi hopes, will no longer see the issue only as an "us" (rescues) vs. "them" (breeders) battle. "More and more reputable breeders will start being vocal and take a stand. "In the coming months and years it will be ALL of us against puppy mills."
When the 800-or-so people see the film in Ames, Mindi says they will come away with hope. "Everyone in audiences across the country will be able to see that they can do something to end this," she says. "Every individual person holds the key to change and every person has a voice to help these dogs."
Bailing Out Benji is a non-stop, no non-sense non-profit and deserves all the help it gets. We're proud to be a partner and encourage anyone who is interested in helping fight puppy mills to join Mindi. For people in Iowa, Bailing Out Benji is always on the lookout for new members to volunteer. It hosts educational tables at events across the state (and the midwest) and Mindi and friends protest pet stores that sell puppies from puppy mills. "We currently have three protests that go on each weekend. While the bulk of what we do is in Ames, thanks to two amazing volunteers- Shannon Studt and Lori Kendrick- we are able to protest Petland in Iowa City and Pet's Playhouse in Cedar Rapids."
For those not close enough to volunteer physically, Bailing Out Benji is always in need of people to help put up educational flyers and hang brochures. This is a very easy way to spread awareness in your local community while volunteering for Bailing Out Benji, so find BoB on Facebook or the web if you are willing.
One of the biggest things anyone (from anywhere) can do is donate. All proceeds are tax deductible and they help BoB continue its important work. Through donations, Mindi has been able to put up the first puppy mill awareness billboards on bus ads in Iowa. She is currently working on new billboards and educational ideas of that nature, so sponsors or partnerships are always welcome.
We all appreciate the work 5414 and BoB is doing to bring education and awareness to the forefront in regard to conversations about puppy mills. The Ames Premiere is going to be a wonderful event and again, Pets in Omaha is proud to partner with Bailing Out Benji, 5414 and The Green Spot to show central Iowa a film that will be impactful as the discussion goes on about commercial breeding, the importance of adoption and legislation.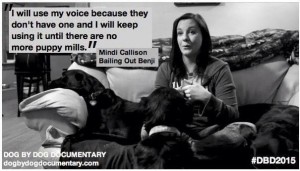 If you plan on coming to the film's showing in Ames, or even if you aren't, brush up on your puppy mill facts by clicking here.