Help the Animals through the 2015 Omaha Gives! Campaign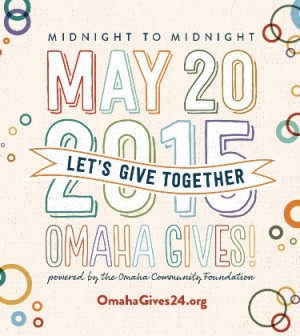 Omaha Gives! is a 24-hour online giving event organized by the Omaha Community Foundation to grow philanthropy in Douglas, Sarpy, and Pottawattamie counties. The goal is to inspire the community to come together for 24 hours to give as much as possible to support the work of public 501c3 nonprofits in the metro area. The minimum donation is $10 and there is no maximum.
Bonus dollars and prizes amplify charitable donations to make each dollar go farther. The groups receiving the most donations overall and within their groups get bonuses, so this is a great way to give a little and turn your gesture into a boatload of bonus cash for winning groups.
This Wednesday, May 20, is the annual Omaha Gives! donation day. We encourage you to donate any time you are able, but this event proves yearly to be a giant opportunity for non-profit organizations, especially animal shelters and rescues.
How to give
You can donate any time, but the 24-hour Omaha Gives! fundraiser takes place on Wednesday, May 20. Click here to find a list of all organizations participating in the campaign. Find the non-profit you'd like to donate to, click the logo and read about its mission. You'll be prompted to donate by clicking the "Donate Now" button, then you'll fill in the amount you'd like to give, tell the Foundation whether you are a first-time giver, then give your name or give anonymously.
Who to give to
Any and all of the non-profits listed are worthy causes, but we encourage our readers to take a look at the participating shelters and rescues. We do our best here at Pets in Omaha to raise awareness for volunteer-based groups like these and hope you will as well.
Basset and Beagle Rescue of the Heartland
Our organization is devoted to rescuing and rehoming bassets and beagles in Nebraska, Kansas, Missouri and Iowa. BBRH also puts great emphasis on educational efforts regarding these breeds and responsible pet ownership. In 2014 we had lots of dogs who came in to rescue heartworm positive. Even though we think it's worth the time and cost, the treatment is expensive and lengthy. Please consider donating to help us pay for these extra expenses and rescue more dogs.
Feline Friendz
Feline Friendz in Nebraska was founded in 2002 and is a 501(c)3 cat rescue organization. Our organization is made up entirely of dedicated volunteers. We work to control the stray and feral cat population by the humane method of Trap Neuter and Return (TNR). Feline Friendz works with several veterinarians in the Omaha Community to offer low cost spay and neuter of cats.
Click here to donate to Feline Friendz
Catnip and Tails Rescue
Catnip and Tails Rescue is a registered non-profit (501c3) animal rescue organization. We are state licensed in both Iowa and Nebraska with the Department of Agriculture. We rescue homeless/abused/neglected/abandoned animals from high stressed situations. as well as those animals that are in danger of being euthanized at a shelter.
Click here to donate to Catnip and Tails
Golden Retriever Rescue in Nebraska
GRRIN was founded in 1991 and provides a network for sheltering, rehabilitating and finding loving homes for Golden Retrievers in distress.
For almost 25 years GRRIN has worked to place over 1,000 dogs in wonderful "furever" homes. All of our work is carried out by volunteers who give their time to transport dogs, screen potential adopters, man our phone line, and open their homes to a foster dog that will ultimately be adopted by a loving family.
Great Plains Pointer Rescue
Great Plains Pointer Rescue was founded in 2008. Initially we were "German Shorthair Rescue of Nebraska". We soon started helping in Iowa and Minnesota and have wonderful breed loving non paid volunteers in all states. Here at Great Plains Pointer Rescue, we take pride in helping German Shorthairs and Pointers in many situations. All of our dogs receive full vet care in our program from minor to major medical issues. Our main goal is to find loving and committed homes for our dogs.
Greater Omaha Cage Bird Society
The Greater Omaha Cage Bird Society (GOCBS) is dedicated to "Striving for the Preservation of all Cage Birds.
Hands, Hearts & Paws Rescue
Hands, Hearts and Paws is a non-profit dog rescue group. We rescue, rehab, fully vet and rehome dogs. HHP rescues from puppy mills, kill facilities and owner surrenders. We love our rescue dogs, care for them in foster homes, until fur-ever homes are found.
Heartland Cats
Heartland Cats provides a safe and loving sanctuary for older cats that might otherwise be running out of options due to age, medical problems and/or loss of home. Our no kill, limited admission facility, works with the community to prevent needless euthanasia by offering short and long term care, adoption, foster, hospice, and educational programs. The programs we offer not only benefit the cats in our care, but also benefits our community.
Click here to donate to Heartland Cats
Helping Hands for Furry Friends

Helping Hands for Furry Friends is a group of dedicated animal lovers and rescuers who came together to pool our resources realizing that collectively we could reach out to help more animal rescue groups and animals in need than if we were trying to do so individually. We offer our support to help individuals and animal rescue groups with extraordinary expenses they encounter in the rescuing, rehabilitating and rehoming companion animals.
Click here to donate to Helping Hands
Homeward Bound in the Heartland
Our mission is to rescue, rehabilitate, foster and re-home abused, neglected and abandoned animals. We transfer animals from high-stressed situations to temporary foster housing and provide medical attention until matched up with a loving fur-ever home. In addition, we help people in need with assistance to enable them to keep and care for their pets.
Click here to donate to Homeward Bound in the Heartland
Hooves and Paws of the Heartland
At Hooves & Paws Rescue of the Heartland we rescue & rehabilitate abused, starved, neglected & unwanted Horses, Donkeys, Mules, Dog's & Puppies. Following rehabilitation we place such animals in loving, forever homes. If for any reason they can't be placed due to behavior and/or health issues they will remain with us at our No-Kill Rescue/Shelter for the rest of their life.
Hearts United Omaha Dog Adoption Center
Hearts United for Animals and the HUA Omaha Dog Adoption Scenter feature many wonderful dogs for adoption, ones who would not have survived without our help. They were rescued from puppy mills, needed extensive surgeries to make them well, were abandoned or abused. Other programs include spay/neuter, emergency medical care for dogs or cats whose owners cannot afford to save the lives of their beloved pets, educational programs & temporary housing for pets of families fleeing domestic violence.
Jack Russell Terrier Rescue
JRTs are wonderful dogs, they are bold, assertive, active, intelligent and LOVE being with their human companions. We require an adoption application and contract. All dogs are neutered/spayed. We ask for an adoption fee ($175). Despite their small size, they need a home with an active lifestyle. JRTs are a big dog in a small package. A fenced yard is best. JRTs are avid hunters.
Little White Dog Rescue
In 2014, Little White Dog Rescue rescued, rehabilitated and found loving homes for 378 "little" dogs. So far this year, 141 dogs have completed their rescue journey into loving homes with help from Little White Dog Rescue. Many of these dogs have very serious medical issues that costs thousands of dollars to address. But WE NEVER WITHHOLD A CHANCE FOR LIFE FROM A DOG BECAUSE OF HIS HEALTH. Your donations give them hope.
Click here to donate to Little White Dog Rescue
Lusco Farms Donkey Rescue
The only rescue in the area specializing in donkeys and mules. We are run by 100% volunteers and every dollar goes towards the care of the donkeys. We take in unwanted, neglected and sometimes abused donkeys and mules. We rehabilitate and find them loving homes. The rescue is a stopping place not a home. We have successfully rehomed over 75 of these animals since 2011. Please join Lusco Nation and become part of something special.
MidAmerica Boston Terrier Rescue
Help this great rescue that helps Bostons find a home!
Click here to donate to MidAmerica Boston Rescue
Midlands Humane Society
At Midlands Humane Society, we believe every animal has the right to good food, a warm bed, the medical care they need and unconditional love. No animal that comes to Midlands Humane Society is ever turned away. Through adoption services, education and advocacy, we fulfill our mission to protect and nurture companion animals and enrich the lives of people who love them. We celebrate the bonds between people and pets and promote responsible pet ownership.
Midwest Dog Rescue Network
Midwest Dog Rescue Network started in 2007 with a group of dedicated animals rescuers. We are an all-breed and mix-breed 501c3 non-profit dog rescue licensed in the state of Nebraska. Regardless of breed, we try to save as many dogs as we can from overcrowded shelters in need of help and commercial breeding facilities known as "puppy mills." We have no employees so all proceeds go directly to the care of the animals including all medical expenses and supplies for the dogs.
Missouri German Shepard Rescue- Nebraska Chapter
We are the Nebraska Chapter of Missouri German Shepherd Rescue, which is based out of Kansas City, Missouri, but includes several volunteers and foster homes, right here in the Omaha and Lincoln areas. All volunteers and fosters are devoted to rescuing, rehabilitating and rehoming neglected, abused and unwanted German Shepherds and German Shepherd mixes.
Click here to donate to Missouri German Shepard Rescue in Nebraska
Muddy Paws Second Chance Rescue
We offer rehoming services for small breed dogs, as well as educational and training support to owners of dogs with behavioral problems. The rescue is all volunteer based, and all of our rescue dogs are living in the homes of our volunteers. We pull dogs from high kill shelters, as well as get dogs from owners needing to relinquish them for one reason or another. Muddy Paws relies solely on donations to keep our rescue running and all donations are greatly appreciated!
Nebraska Border Collie Rescue
Donate to NBCR to help this wonderful breed and the volunteers who save them!
Nebraska Dachshund Rescue
NDR has saved over ONE THOUSAND dachshunds since it was formed in the fall of 2007 by dachshund lovers. Hearing of dachshunds in kill-shelters, being surrendered by families, retiring from puppy mills, etc…who deserved a second chance at life…the rescue was formed. NDR is dedicated to helping abandoned, surrendered, abused and neglected dachshunds. Providing a safe, loving foster home. Educating owners on responsible pet ownership. Finding forever homes for dachshunds in need.
Click here to donate to Nebraska Dachshund Rescue
The Nebraska Humane Society
The Nebraska Humane Society is an open entry animal shelter providing care, medical assistance & sanctuary to every homeless, abused, or neglected animal that crosses our doorstep. Through adoption, education & training our programs touch the lives of more than 160,000 people in the Omaha metro.
Did You Know
$10 will provide a microchip to a shelter animal
$16 will provide an animal with a day of care
$22 provides pain patches to injured animals
$50 provides animals with essential vaccinations
Click here to donate to the Nebraska Humane Society
The Nebraska Rescue Council
The Nebraska Rescue Council is a nonprofit coalition of state-licensed groups formed to educate the public about animal rescue and to encourage families to adopt, not buy. The Nebraska Rescue Council was formed, so that independent, state-licensed, animal shelters and rescues can work together to promote one another, reduce euthanasia and provide information to the public about our organizations. We want to tell you how you can get involved and educate others.
Click here to donate to the Nebraska Rescue Council
Nebraska Wildlife Rehab
Our mission is to rehabilitate native Nebraska wildlife for return to the wild, to preserve and restore native habitats, and to educate youth and adults about the importance of wildlife and ecosystems by engaging them in activities that contribute to the well-being of our natural environment and inspire them to take action to protect it. We work to create a community in which wildlife and natural habitats are valued and protected.
Click here to donate to Nebraska Wildlife Rehab
Northern Plains Boxer Rescue is a nonprofit, all volunteer effort where every boxer counts. The organization strives to rescue, rehabilitate, and re-home all boxers in need. Northern Plains Boxer Rescue makes every effort to educate the public about the boxer breed and responsible pet ownership.
Click here to donate to Northern Plains Boxer Rescue 
Omaha Dog Park Advocates

The Omaha Dog Park Advocates are volunteers who care for the city's dog parks. Your donation goes toward making your dog park experiences better, more comfortable and richer for your pets.
Click here to donate to the Omaha Dog Park Advocates
Pottawatamie County Animal Shelter
We are a small shelter located in and servicing rural Pottawattamie county. Our Officers bring in strays and accept surrendered animals from all over the county. We had an average turn around last year of only 4 days in the shelter per animal. That includes several that stayed for a few months, but also dozens of "one day wonders" who were reunited with their owners by use of either their registration tags or microchips. .
Click here to donate to the PC Animal Shelter
Promise 4 Paws
Promise 4 Paws is a senior dog sanctuary. Our PASSION is SENIOR DOGS and our MISSION is to provide the BEST HOME-like environment possible so that our senior residents can live out their lives as happy and comfortable as possible. We are a free-roaming home where all the dogs can go about as they please, whether that means a nice afternoon nap on a comfy bed or a relaxing stroll around the huge yard. We have volunteers at the sanctuary 24 hours a day, 7 days a week to care for the dogs.
Click here to donate to Promise 4 Paws
Solas Council Bluffs
SOLAS was founded in 1993 by Mike and Mary Jones as a volunteer group with the mission of "providing public awareness and volunteer support for the animals". All our members are volunteers; there are no paid employees and no salaries. Donations for the benefit of the animals. Each year SOLAS spends a majority of its funds for vaccines, tests, medication and veterinary care and to alter the animals in our care.
Taysia Blue Siberian Husky Rescue
Each year we save the lives of over 100 Siberian Huskies & Alaskan Malamutes that are in immediate danger of being killed in area shelters. We don't have a facility; all our dogs live in volunteer foster homes getting love, care and training until they can be adopted. We would love to save more, but we need your help. If you can't foster, please volunteer. If you can't volunteer, please donate.
Town & Country Humane Society
Town and Country Humane Society is a non-profit, no-kill organization dedicated to the humane treatment of animals. Our mission is to promote responsible pet care and ownership through educational efforts; to place animals in responsible, loving homes and to reduce the pet population through the promotion of spaying and neutering.
Click here to donate to Town & Country Humane Society
Wag n Train Terrier Rescue
Wag N Train Terrier Rescue's mission is to rescue, rehabilitate, train, and re-home dogs in need of permanent homes. We specialize in rescuing terriers and other small breed dogs with a emphasis in rescuing from puppy mills. Our organization is staffed 100% by volunteers, and 100% of the proceeds are used to rescue and re-home dogs. Our philosophy is to serve as the "voice of the dog."
Click here to donate to Wag n Train
Western Iowa's Feral Cat Rescue Program
WIFCaP is a small group of women who saw the plight of feral & community cats, saw the lack of services to help them & stepped up to the plate to help! The proven method of TNR Trap Neuter & Release or Return is the focus. Cats are humanely trapped, fixed and vaccinated, then returned to their original location where they are monitored and fed and live healthy lives as the numbers decrease naturally.
Click here to donate to WIFCaP
Wildlife Encounters
Wildlife Encounters is a non-profit 501(c)3 organization that is dedicated to educating the public about our natural world while offering a 100% no-kill refuge for animals in need.
Click here to donate to Wildlife Encounters.org
Now is as good of a time as any to donate to your favorite (or any!) area non-profit that helps animals. Please take time to donate, find out how else you can help these great 501 (3) c organizations and spread the word. The more who see this, the more we can encourage to donate!