New film highlights the bravest of animal rescuers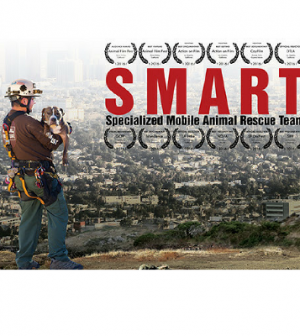 Recently, we introduced you to a company called Happy Kids Happy Pets that works to teach children to be compassionate, loving, and kind to not only animals, but to all. Read our story about Happy Kids Happy Pets here. 
Since then, we've received a letter from Betty Delman, a company official, letting us know about something all of us will be interested in seeing, a film about the bravest of animal rescuers called S.M.A.R.T. There are a ton of free or inexpensive ways to see the film (and opportunities to bring it to your local theater), so please read about these wonderful people and share their story.
Here's what Delman wrote in a letter we received.
There are a lot of us out there working on helping animals.
My company, Happy Kids-Happy Pets, teaches children about compassion, self-respect, respect of others. and humane treatment of animals. http://www.happykids-happypets.com Then you have the rescuers in the movie SMART, who go way beyond compassion and respect. This is such a big dangerous job but will do wherever they need to do to save an animal. I have never seen anything like this before. The rescuers will go where nobody else will go. They are some of the bravest people that I have ever seen. They do this because of their love for animals and to help these defenseless animals in the situation that they are in.Justin Zimmerman of SMART says,"We put 3+ years into the making of SMART on our own time and dime. We're proud of it and we want it to do well. Not only for us, but for the SMART team!" The movie is a must see.SMART is available for free to Amazon Prime members right NOW! It's also for rent or to buy streaming and on DVD from Amazon. And don't forget Vimeo, CLS and other outlets. There are TONS of ways to see SMART.
They can go to www.SMARTMovieDoc.com to see everything in one place. Send them to www.SMARTMovieDoc.com and tell them to say hi.
There are also multiple ways to bring the film to your local theater:

The more SMART is shared, the more it shows how important animals are in our lives. Please see the movie and spread the word.
Thanks to everyone who was involved in making the movie SMART!
Betty Delman
Happy Kids-Happy Pets
If you'd like to see the film, check out the links above. If you'd like to bring it to your town, do that as well. This certainly seems like a great film that highlights some brave folks who love animals, so why not support them?