Foster an Animal, Save a Life (Like Kyle's!)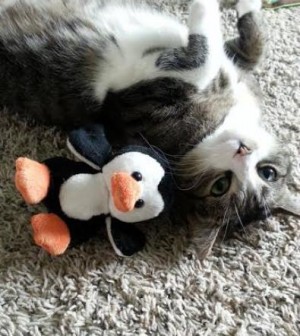 On Christmas Eve, I volunteered at the Nebraska Humane Society. When volunteers handle shelter duties that day, the staff gets to go home early or completely take the day off. I expected to go enrich some cats, fill food and water bowls, and keep everything tidy. I have a cat, a wife, and toddler at the homestead, so taking an animal with me when I left the shelter that day was not the plan. I believe many people, when visiting the shelter, tell themselves in earnest, "no animal is coming home with me today."
The shelter had 30 or so adoptable cats on Christmas Eve. One cat in particular, a tiny brown tabby named Kyle, somehow put a spell on me. Despite my best efforts to leave unaffected by the animals, Kyle's magical powers penetrated my stoic, dutiful force field of objectivity. Before I left the shelter, I asked Chet Bressman, long-time volunteer and head honcho on Christmas Eves at the NHS, whether it would be ok for Kyle to come home with me as to avoid spending the holiday alone in the shelter. It was.
Kyle was 7 weeks old and cute as can be. He'd also been treated for fleas, tested positive for feline leukemia, and had surgery to patch him up after being hit by a car. And when the following Monday rolled around, and I was to take Kyle back, I asked for a little more time with him. He became a foster-to-adopt kitty at that point, though I still had the option to just foster, returning him later.
I told myself the only way I could prevent Kyle from being a stray, getting fleas, or being hit by a car again was to adopt him. I did.
And though I wasn't keeping Kyle because of the good that comes from fostering and eventually adopting, doing so resulted in one kitty's life cemented in happiness and safety. Fostering saves lives.
"Fostering is a wonderful way for people to 'save' several lives," says Pam Wiese of the Nebraska Humane Society. "When people foster animals, they offer fragile, scared or recovering pets the chance to grow, heal or rehabilitate in a home environment—which speeds their progress."  One objective in foster programs is to get young or inexperienced animals more socialization and handling than the shelter can offer. The animals learn that people are fun- something many don't know before being fostered. "Scared animals can calm down in a more serene place, and begin to feel comfortable," Wiese says. "Recovering pets heal faster when they are getting one on one love and attention. But moving animals off site also frees up kennels for those who are ready for adoption…so fostering helps to expand our space!"  The Nebraska Humane Society often says,
When you adopt (or foster) you save two lives…the animal you take and the one who can take his kennel at the shelter. 
Fostering is also a fabulous way for folks who might want to have kitty or doggie visitors for a month or so (what I planned to do), and then be able to give them back. Fostering is also a wonderful way to fulfill a desire we all have- to be needed.  These animals truly need someone to take time with them.  When you foster with the Nebraska Humane Society, it supplies all the materials (litter, food, towels, medications) and the foster provides the time and TLC. A pretty sweet deal.
Jennifer Kluesner is the owner of Jett and Monkey's in Des Moines and is also a super foster mom. When I first met Jennifer, she had something like 10 fosters in her home in addition to her own pets. "I find fostering important in that it helps acclimate animals and get them set up to be in a home after being adopted," Jennifer says. "It gives us the chance (the fostering parents) to see behaviors, patterns, and other things you might not see when a dog is sitting in a shelter,too. It's a great opportunity for us to help animals prepare for things they may never have seen in their lives."
In addition to the Nebraska Humane Society's mantra of "fostering saves two lives," Jennifer says fostering can save the life of an animal that may otherwise be euthanized by a breeder. There truly are a number of ways that fostering saves lives.
What does one need in order to provide a foster home?
Kluesner says this varies depending on the animal's needs. When fostering a dog, good things include a fenced yard, time, love, and patience. "I am going to say patience is the biggest thing of all when fostering a pet," she says. Like the NHS, many rescues will provide the essentials for foster parents while an animal is in their care.
For me, and little Kyle, all I really needed in the way of physical items was litter and a box, food, water, bowls, and a room he could claim away from my other cat. The most important thing, like Kluesner says, is the time and patience. Given that Kyle was going to stay with me, my cat, and my family, he needed a good month to get used to his surroundings. I spent hours each day with him, letting him know I was going to be his dad. I slowly introduced him to Keeter, his older cat sister, and Kate, his just-barely older human sister, and patience was definitely necessary. When one introduces an animal to too much too soon, bad habits can develop.
If you are wondering whether you can provide a home for a foster, please contact your local shelter or rescue. They are always in need of fosters (as it provides them with the ability to save more animals) and would be glad to recruit you and discuss what's needed.
Foster today! Besides adopting an animal, it's the best thing you can do for your local shelter or rescue organization.