Frank the Dog comments on Omaha's new patio variance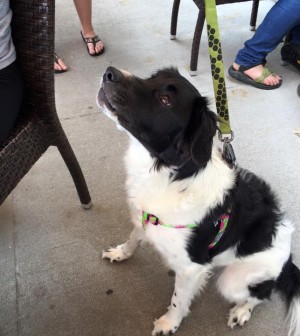 The move toward allowing dogs to join their owners on the patios of various dining establishments around Omaha appears to be gaining some momentum after a slow start. Most of the dialog has focused on whether people are comfortable with canines when they're breaking bread…when the people are breaking bread, that is.
But nobody's had a handle on what the dogs think about joining the "in" crowd at some of the town's hotspots, even if it's just for an outdoor seat. Until now. Pets in Omaha found a dog who was more than happy to share his opinion. His name is Frank. He's a mutt. He'll eat anything. So, we met him for lunch at a local patio. We ate. He just watched. Here's how it went.
PIO:     So, Frank, what's your take on the ordinance variance that allows dogs to sit with their owners on the patios of qualifying restaurants around town…good or bad?
Frank:  Well, I'm not allowed to eat on those patios, so for me it's no big deal. I guess I like hanging out with people as long as they don't order hot dogs. I mean, that's a little offensive. How would people feel if they were eating on my turf and I ordered Soylent Green (look it up, people)? I bet they'd fail to see the humor in that.
PIO:     Some people may be concerned about things like how well dogs will behave on restaurant patios…will they bark, fight, that kind of thing. They also worry that dogs may have "accidents" on the patio where people are eating, and that they're likely to walk around begging other diners for food. Are these legit concerns or are people worried about nothing?
Frank:  Let me just take this all in order…
1)      I've been to behavior training…how many of the people sitting on a patio with me can say the same? I mean, I flunked it, sure, but I still went. Believe me when I tell you I've seen people engage in a lot of bad behavior on public patios…a lot of times, I'm flat out embarrassed for them. So, maybe they should clean up their own act before they worry about mine.
2)      And, speaking of cleaning up, this is easy…if you're gonna keep me on a leash and keep me from going somewhere when I have to go, well…there will be consequences, and somebody obviously will have to clean up those consequences. And it won't be me…no hands, right? So, it's got be the people that run the place or the ones that brung me who do the dirty work. Besides, I didn't ask my owners to keep me out all night while I watch them chow down and indulge in adult beverages that they don't share.
3)      Finally, this begging thing that people complain about? How many times have you seen a person walk up to a dog and say something like, "Ooohhh, what a cute puppy! Can I pet him/her? Will he/she bite? Would it be okay to give him/her a bit of my steak, and maybe some lobster?" Let me tell you, that happens all the time…it's always the human trying to get on the good side of the dog, and all we do is try to politely accept what's offered. Although, heaven help them if they offer me treats then shut me off out of the blue. Don't yank my chain people. I mean that literally and figuratively. Oh, one more thing, and I see people do this all the time…they look at someone else's food and say, "Oh, that looks good, mind if I try a bite?" Talk about begging…they're almost feral.
PIO:     Back to pups on the patio…
Frank:  Oh, alliteration. You people can be so clever.
PIO:     Anyway, on the patio variance…I take it you're generally a fan?
Frank:  Well, yeah. I mean, service dogs have been allowed just about anywhere they want or need to go and that doesn't seem to cause problems. I even heard of people carrying their dogs (and other animals) on planes and calling them "comfort animals." I haven't heard of many problems in either case, so what's the big deal about patios. I can be very comforting on a patio. I do understand the concern about food…people are notoriously unsanitary…but with a little training, I think they can handle it just fine.
PIO:     So, it's fair to say that the whole concept hasn't given you any "paws" for concern?
Frank:  Wow. A pun. Do you do this for a living? Call Lassie, I heard she needs a publicist.
PIO:     That's all I have for now…t hanks for your time, Frank.
Frank: Sure. Two favors: 1) don't make me look bad…remember, you made all this up, and 2) remember, you're picking up the tab for lunch. Also, you kept me here too long. So, you'll need to pick up the consequences, too. Sorry.