From Tulsa to Omaha- 54 animals rescued thanks to local humane organizations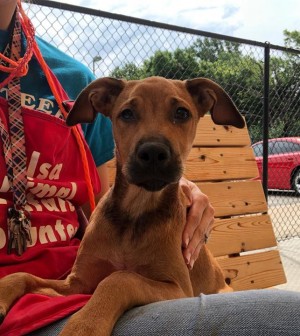 This morning, August, 11, 2018, 54 animals from a Tulsa Animal Shelter were loaded up and transported to Omaha where rescue groups like Muddy Paws Second Chance Rescue and Little White Dog Rescue were waiting to take them into their care. Rescue volunteers met with the animals that were transported today and will start the intake process, getting them into foster homes shortly. To inquire about animals and adoption possibilities, see the websites below. It's too soon to know when the animals will be available for adoption, so reach out with interest to gain insight and knowledge of what's needed from potential adopters.
Here's a cool video from Muddy Paws as it got ready to receive animals.
And here's another of pups being loaded up upon arrival in Omaha (Credit: Kelly Register Gepford).
Earlier this week, rescue groups and shelter officials communicated about transferring animals rather than continuing to euthanize as the population number were uncontrollable in Tulsa. The 54 homeless animals will be fostered by volunteers from a handful of rescues in our area. Though foster homes were already hard to come by for most rescues, the humane groups could not turn down the opportunity to save animals even if the financial and time burdens they already face would increase.
That said, rescues need two things more than anything else: foster homes and monetary donations.
To donate or apply to foster a dog, visit the websites below from the rescue groups currently accepting animals from Tulsa. Also, click here to see many of the animals who will need foster and forever homes upon making it out of Oklahoma.
Muddy Paws Second Chance Rescue (Omaha/Council Bluffs)
www.MuddyPawsSecondChanceRescue.com
Little White Dog Rescue (Omaha)
All Hounds on Deck Rescue (Lincoln)
Midlands Humane Society (Council Bluffs)
4 Luv of Dog (Fargo, ND)
Mending Spirits Animal Rescue (Mankato, MN)