Get to know Omaha Dog Bar and attend Barks and Boos this Sunday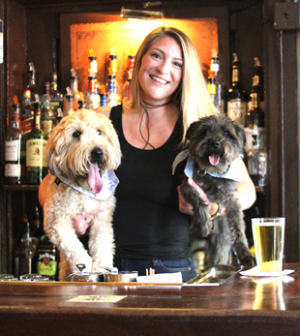 Leah Thrasher, co-founder and operator of Omaha.Dog (a web-based community with the mission of connecting dog owners with dog-friendly businesses, services and events) has hope that she can make Omaha more dog-friendly. A lot rests on that hope, too. Last fall, she left her career in marketing to pursue that hope, plus some. Her dream is to create a fun and safe space for dogs and humans to coexist and she's working to make it happen in a way no one in our area has: a dog bar.
Omaha Dog Bar, the planned venue that is currently being fund-raised, is "A Watering Hole for dogs and their people," she says. Her creation will be Nebraska's first indoor/outdoor off-leash dog park and bar. It will combine a professionally maintained bark park, with a bar and coffeehouse where members  can work or socialize while their pups run, jump and play. It's a place, she says, "For the community to come together and enjoy a cold drink in the company of great friends, new and old, two-legged and four-legged."  Thrasher hopes that, on top of the park and bar, her permanent location will be a safe, fun, and healthy place people can hold events like parties, training programs, and more.
Thrasher has hosted a series of five "Pup-Ups" recently (all have sold out) from which money raised will fund Omaha Dog Bar's opening. These events, hosted in temporary spaces, provide her with what she'll need to lock up a permanent location. In the meantime, she's already started to bring community together. "Attendees get the chance to learn more about Omaha Dog Bar while showing their support, socializing their pups, and enjoying refreshing beverages," she says. Merchandise is also available for purchase at the events.
Click here to see photos from previous Pup-Ups!
Fret not if you've not been to any of the Pup-Ups to date;  a Halloween FUNraiser for dogs and their people, hosted by Omaha Dog Bar and Ripley & Rue, is set for this weekend. Guests will have the opportunity to dress pups up in Halloween costumes, do some Trick or Treating, enjoy games, Infusion brews, and more. The event is to take place in the new Makerhood (where Hutchfest was, located just north of TD Ameritrade Park).
• 21+
• Tickets are $25 and are PER Dog
• Humans are free
• Tickets include two drinks and entry for ONE dog
• Drink tickets avail for $5
• Infusion Brewing Company will be serving the drinks!
• Beer Paws will have a keg of their signature Dog Beer
• Outdoor/Off-leash bark park
• Raffles
• Costume contest with cool prizes. Categories are:Scariest, Funniest, Most Creative and Best Group
• A vendor village full of local dog-friendly shops and services
• A local DJ will be mixing up some freaky good tunes
• Graffiti artist will be doing live/interactive Dia de los Muertos/ dog themed graffiti art.
• Scary Photo booth with Photographer