Who Can Give Marley A Home?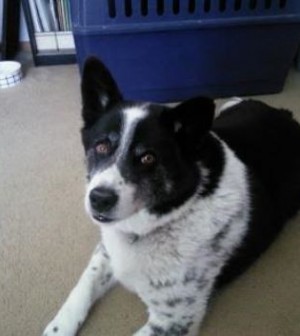 We have all heard the saying, "You can't teach an old dog new tricks."
Time and time again that saying proves us wrong. If you need a little refresher as to why older dogs make the best companions and can learn new tricks, take a look at this previous article that explains the benefits of adopting an older dog.
Meet Marley, a sweet 10-year-old male Border Collie-with more energy than you would expect.
Marley grew up on a farm, loves to play and loves children. Currently, he's being fostered in Des Moines, Iowa, and his foster family has discovered Marley is completely potty trained, crate trained, a wonderful watch dog and loves to sleep on the floor next to the bed at night.
"Marley is overweight as you can see, and is currently on a reducing diet.  However, he is very solid and built like a fireplug.  I believe he was used to an active lifestyle on the farm," said Jessica Norman of Nebraska Border Collie Rescue, Inc.
Marley would do great with a family that can provide him with lots of playtime and love. Check out Nebraska  Border Collie Rescue, Inc. to learn more about Marley.