Halloween Safety for your pets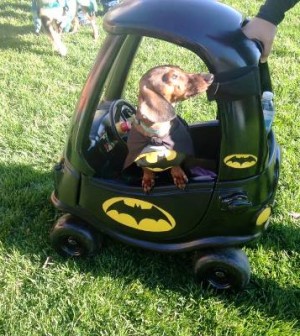 It's not quite as dangerous or "scary" as the Fourth of July, but Halloween can be a perilous time for pets. Really, any time when things are not in line with the daily routine, trouble can present itself (and be found) by our furry friends.
Loud noises, edible and inedible items that are toxic to animal tummies, strangers at your door and other things are potentially hazardous, but some things are more common than not. Below, find a few tips on keeping yourself happy and your pets safe during this ghoulish time of year!
No Candy for Pets! Candy is a staple of this holiday, but it shouldn't be consumed by your pets. Chocolate, as we know, isn't good for pups. Xylitol, a common ingredient in sugar-free treats, is also toxic. If you want your pet to enjoy the sweetness of this holiday, visit your local pet bakery and pick up something that's tasty and safe.
Careful with the costumes- dressing up pets is a Halloween tradition, and while we won't condemn it, we will offer some advice on keeping things safe while in character for trick or treating. Really, it's common sense time here… keep costumes and accessories comfy, non-restricting, free from allergens, etc. And keep an eye on your pet at all times when he or she is in costume.
Double Check IDs- Your pet should always either be wearing an identification tag or have a microchip implanted. With all the commotion that goes along with spooky Halloween fun, your animals may get frightened- like, really frightened. If they escape, you'll want to make sure they get home safely thanks to caring neighbors and proper identification.
Keep it chill- To piggyback on the frightening of the last point, do your best to keep pets comfortable in their environments, especially if you're having a party or plan to allow people to ring your doorbell all night looking for treats. If your pet needs medication, by all means. If you need to comfort your pet more often than usual, give 'em that extra soothing they'll need to stay calm. A scared animal likes to run, so don't let yours get spooked.
Fire isn't always fun- Jack-o-Lanterns are pretty boring in the dark without some illumination. All those Halloween lights likely need electrical cords, too. That said, keep fire, candles, cords and power supplies away from pets. The last thing you'll want to do on Halloween night is visit the Emergency Room. Talk about scary…
Take these tips into consideration, but have fun this Halloween. Keep the candy to yourself, don't play with fire and mind your pets. Trick or Treat!