Heartland Greyhounds, Bluffs Run update and events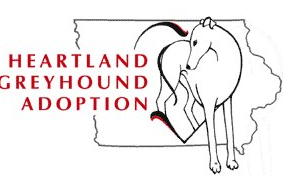 Thanks to our pet community, thousands of people read our story about the people and Greyhounds who work at the soon-to-be closed Bluffs Run track. If you missed it, read it here.
And while we're ecstatic so many of you read and shared the story, we're more excited to see what happens next. Katie Stacey of Heartland Greyhound Adoption has informed us she's responding to "a flood of emails" regarding donations, adoption and fostering, which is work she's surely glad to do. But the efforts to place the estimated 100 retired Greyhounds has just begun.
Luckily, there are two opportunities this weekend for community members to meet the people of Heartland and dogs they are trying to foster, adopt and care for. On Saturday, December 5, a Meet and Greet is scheduled for 4 pm at Bluffs Run Greyhound Park in Council Bluffs. Stacey says she will "have three dogs who will be there that were retired and vetted just today (Friday, Dec. 4). I do still have a waiting list though, so these boys will most likely be adopted by people who have already applied." Heartland will have a number of people and dogs at the track tomorrow for those interested in seeing the breed in a social setting. "There will be a fantastic variety of what the breed has to offer as far as sizes, colors, and personalities. The retired dogs for the most part get a kick out of watching the races. Many bark as they see the lure and dogs run past the windows," she says.
Saturday's event will be a great opportunity to meet Greyhounds, the people who know and love them, plus it will provide a chance for folks who are interested in learning more about the upcoming retirees who will need homes.
If you can't attend the event tomorrow, Sunday is another opportunity to meet Heartland and its dogs. Another Meet and Greet is scheduled for noon at the Green Spot in Aksarben Village (southeast corner of 72nd and Pacific in Omaha).
For more events from Heartland, check them out of Facebook. And if you haven't read and shared our previous story, there are many more folks we'd love to reach.