Hearts United for Animals will stop at nothing to save these dogs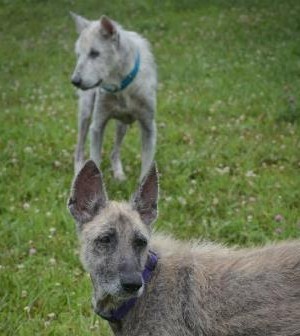 Recently, Jill from Hearts United for Animals (HUA), a no-kill rescue and sanctuary in Auburn, NE, told us about a couple of pups, Charlotte and Maverick, whose story exemplifies the dedication of the rescue and its people. The dogs received a second chance with the help of transporters, caregivers, and volunteers, and the story is one of perseverance, hope, and generosity that we hope you will enjoy. HUA has titled his story, "When Humans Will Stop at Nothing" and it is below.
WHEN HUMANS WILL STOP AT NOTHING
On Sunday, June 3, Audrey and Brittany of the St. Francis Wolf Sanctuary in Montgomery, Texas, received notification of an "unrecognizable wolf in desperate need of help." After heading out to perform an evaluation, they found Maverick sitting on the grassy knoll of a neighborhood drainage ditch in Northeast Houston.
It was immediately apparent that this was not a wolf, but a horribly sick dog covered in mange. Dogs that lost their homes during Hurricane Harvey are still in the streets, trying desperately to survive on their own. The city of Houston will not help dogs in need unless a foster home is available, and Audrey and Brittany could not bring Maverick back to the sanctuary because he was not a wolf or wolfdog. They returned the next day to provide him with much needed medication, trying to figure out what to do next. The dog that trotted up to the car asking for help appeared to be Maverick–until Audrey realized that it was a female, in even worse condition.
Mission "Save Maverick and Charlotte" began. A beautiful soul in Omaha named Deb stepped up immediately and offered financial resources for emergency vet care. Fundraising efforts raised more money in a few short days to supplement medical boarding expenses. Both of these precious dogs suffered from demodectic mange and heartworm disease. Charlotte has a cancerous tumor in one eye. They are estimated to be approximately twelve years old, with a decade long history of neglect.
Dina Barta–a game warden who has worked with the wolf sanctuary before– shared Audrey's Facebook post pleading for help for Maverick and Charlotte. Dina is also a rescue warrior who donates her time and photography skills to help homeless dogs find families. Kind-hearted HUA volunteer Pam–and founder of Sadie Dog Fund– shared Dina's post, and dedicated animal advocate and HUA volunteer Trudy immediately contacted the shelter. It was agreed by all that these poor dogs needed to get to HUA as soon as possible. Thus, the relay from Texas to Nebraska began.
The amazing humans with Race4Ran Transport company donated their time and resources for these two dog angels and arranged all six legs of the long trip. Soon Maverick and Charlotte were on their way to HUA, with thousands of people cheering them on on social media.
Pam, so emotionally invested in the lives of these wonderful creatures, took the last leg of the trip from Topeka, KS, to HUA. She rolled up with her precious passengers late in the night. Caregiver Tim had already lovingly arranged their comfortable new beds, and was there to greet Maverick and Charlotte with open arms.
These terribly neglected, very sick, BELOVED animals are now settled in at their new home at HUA. They will continue with their heartworm treatments and medicated baths, and once Charlotte is strong enough we will address the tumor in her eye. What is of utmost importance right now is that they are safe, thanks to the unwavering dedication of huge-hearted humans who would stop at nothing.
Their life-saving rescuer Audrey describes them as such:
"Maverick is a beloved 'old soul'. He's very peaceful and calm and just wants a comfortable bed to lay in and be someone's companion. He's not bothered by much, and seems to not realize yet that life is so much better than the one he's been given all this time..His mentality is 'I've had a hard life, but if you're nice to me then we are good friends.'
Charlotte is sweet as pie and a puppy at heart. She strives for human contact…and treats. Her body may be aged, but her spirit and energy are in their prime. To have been able to watch her come to life finally has been a gift. She is described as being 'the most innocent creature on the planet. She'll break your heart and put it back together all at once.'"
Our sincere and heartfelt gratitude goes out to all of the incredible people who made this happen. We also thank our wonderful supporters whose help allows HUA to remain a peaceful sanctuary for dogs like Charlotte and Maverick, who have nowhere else to turn. Many hearts rejoice today at an immensely rewarding and gratifying rescue that seemed impossible at the start.
***
This story demonstrates not only the idea that "it takes a village" in rescue, but that there's a great community of animal advocates all around. Charlotte and Maverick's story is special, but not all that unique. Rescue efforts like this one happen with regularity thanks to places like HUA. That's heartbreaking knowing that there are that many cases, but also heartwarming in that HUA and others never tire of helping these dogs and the next ones, too. If you'd like to become part of the story for these dogs and others, see the link below.