Hearts United helps 39 mill dogs and now they need you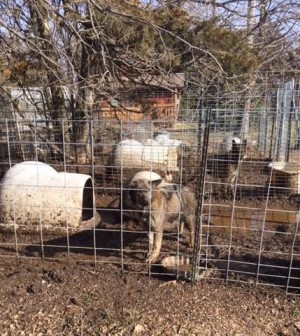 When a puppy mill housing 39 dogs is shut down, help needs to come from everywhere. Local law enforcement, veterinarians, rescue groups, and the community at large all play a part for every pup to get what's best for each of them. And when the dogs are in the condition that they were when Hearts United for Animals (HUA) showed up on scene in this case, tough decisions have to be made. This story is a sad one, but, for many of these animals, their tomorrows look much brighter than their yesterdays- especially if you can help.
Thanks to Jill and company at HUA, here's a bit of the background along with where we all are in the process of helping the more than three dozen dogs that were relinquished by the breeder in late March:
An urgent call came in to the HUA office. A local sheriff was in the process of closing down a horrific puppy mill housing 39 dogs that were living in dreadful conditions. They were outdoors in the cold, muddy and filthy. Ten dogs were so sick that the veterinarian called in to assist was forced to immediately euthanize them to put an end to their misery. Another had already died before the vet arrived.
HUA was asked to provide emergency assistance to local rescue by taking in any dogs they were not equipped to handle. HUA's philosophy is to leave no dog behind in the event of such an emergency, so it loaded up a van and set out to save some lives.
The sheriff had instructed the breeder to transport the remaining dogs to the local rescue. When these beautiful Shepherds arrived, hearts broke over their conditions. The neglect was written all over the faces of these terrified dogs.
HUA assumed that loading these beautiful creatures into the van would prove to be a bit of a challenge. They are quite large and have never received a kind touch, let alone walked on a leash. But their instincts told them that help had arrived, and they were ushered into the heated van without incident, where they settled in peacefully.
HUA committed to saving every dog that the local rescue did not have accommodations for and arrived back at the shelter with ten Shepherds and a gorgeous Great Pyrenees. The majority of these poor animals are messes, both emotionally and physically. They are very fearful because nothing has ever been good in their lives. They only expect bad things. The tips of their ears are ragged from years of fly bites. Their coats are rough, matted, and sparse. Bowel problems are a big issue and a vet will determine whether this is stress related or something more serious. Despite it all, they are grateful to be in from the cold, clean, warm, and fed. The beautiful Pyrenees rewarded caregivers upon waking with a lovely grin and even some sweet kisses.
After the initial intake period, the pampering, socialization, and lessons began. Warm, soapy baths felt so good, yet so alien, to these beautiful dogs. Most caregivers were as wet as the dogs were. HUA's amazing "big dog" volunteer Vicky visited and took each one on a quiet walk. All but one of the Shepherds snuggled in for love. HUA was very encouraged by this, but also brokenhearted. These magnificent creatures who should despise the human race are begging for humans to love them.
At last check, here is what HUA has told us: Astonishingly, all but ONE of the shepherds are cuddling up to humans asking for attention.  The Great Pyrenees is a total kiss up.  Baths were a nightmare. The dogs don't want to be wet as that's all they've been.
We will stay in contact with HUA and provide more about the progress and situation as we go. Adoption of these animals won't happen for quite a while as what's more important is their immediate health and care. Knowing it will be a long process, HUA needs your help.
It is expected that vet bills will be astronomical for the Shepherds and the Great Pyrenees. They will need extensive examinations and testing, medications, and altering. If you would like to contribute to their care, please visit the HUA Web site at www.hua.org.
Thank you for your support for these critical missions of mercy. Rescuers simply could not continue this important work of making sure no dog is left behind, and they couldn't do it without help from the community. If you are able, please help by donating and sharing this story from HUA so we can all aid these dogs in enjoying the start to their new lives.