Hearts United, Paw Spa Team Up to Save Animals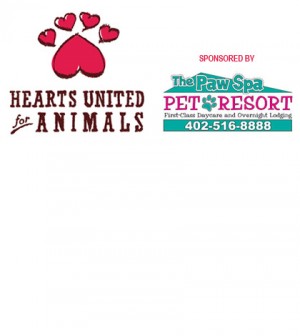 If you don't know about Hearts United for Animals (HUA), our rescue friends, here is their mission: a no-kill shelter, sanctuary and animal welfare organization dedicated to the relief of suffering. They take the creatures who are lost, afraid, hungry or ill and comfort them, give them a warm soft bed, good food, medical care and most of all, love. In many ways this is a very easy thing to do because these are lovely grateful animals who give a world of love in return. In other ways, it is very difficult because the number of animals in need is so large.
Everyday animals are rescued from terrible places and given a second chance at life, Hearts United for Animals is dedicated to saving as many animals as possible. Located in Auburn, NE, however, HUA is over an hour south of Omaha. HUA came up with a creative solution to reach the Omaha community better.
In January, HUA approached the Paw Spa, which is a Pet Resort located in Sarpy County that boards, grooms and serves as a doggy day care to many animals here in the area. The Paw Spa had extra pet suites that are now occupied by some of HUA's rescue dogs. Sheila and Kevin Irish, owners of the Paw Spa Pet Resort, rent the suites to HUA and the pups enjoy all the amenities of the resort including a swimming pool, Kuranda beds and television. Up to 15 suites in the Paw Spa are allocated for HUA animals.
Eric and I took a little trip and visited the Paw Spa recently. The cleanliness, organization and friendly staff members made our experience there so enjoyable, and we met some awesome rescue dogs.
Take a look at the dogs currently up for adoption and if you are interested, pay them a visit! They are located at 16912 Audrey St in Omaha. If you'd like to spend some quality time with the pups and even have a play date, one can be scheduled.
We also really want to encourage any organization that may be able to foster rescue dogs, like the Paw Spa does, to reach out to a rescue or contact us so we can help connect you. By partnering with a rescue your business will truly make a difference in how many animals our community can save.