Help Hooves & Paws of the Heartland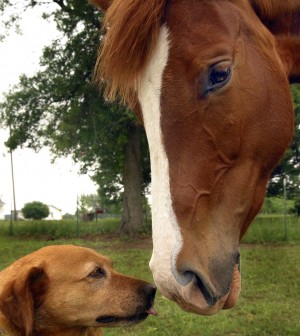 Hooves & Paws Rescue of the Heartland of Glenwood, IA is one of the largest no-kill rescue organizations and shelter for horses, donkeys, mules, dogs and puppies in Iowa and Nebraska.
With help and support of the surrounding animal community, the group is able to provide rescued animals with a loving place to call home. The Hooves & Paws Web site, which can be found here, says that animals stay with the rescue for "a month, a year or perhaps a lifetime." In any case, caring for these animals is a costly and noble effort. Upon hearing about the group's mission and current situation, we'd like to offer the community an opportunity to help Hooves & Paws keep doing what it is doing.
Running a shelter and rescue organization is just plain expensive. Along with the cost of making rescue services available, groups also need to pay for supplies, utilities, infrastructure and administrative costs. The winter takes a toll on shelters, as it does everyone else, because of increased costs related to heating. Not only do people need to stay warm, but animals need that extra heat, shelter and food during the cold months. This winter has been especially cold, making things especially tough.
The shelter not only has to dish out extra money for its own added costs during the winter, but also revs up its aid to people and animals who need a little extra help during the frigid months of the year. A recent article we found about the shelter and its efforts says that Genea Stoops and her rescue organization at Hooves & Paws is "giving dog food to several individuals that are out and need a helping hand due to high propane costs." Propane costs are overly taxing this winter and "eat many of us up," Stoops says.
Stoops is also cited as saying that she pays around $4 per gallon for propane these days. Typically, it costs only a quarter of that price. A 400 percent increase in any cost is surely going to make things more difficult for anyone. Stoops says people are having difficulties, so the shelter has to work harder to keep them and their animals afloat.
To add to the strain of an already trying winter, the propane storage tank at Hooves & Paws has been vandalized, leaving it empty after someone tampered with the tank's intake valve. Not only did the tank run dry, leaving the shelter without propane to heat buildings, water and animals, but water pipes froze, resulting in thousands of dollars worth of repairs.
The shelter is already struggling to stay on top of its own needs. Heightened levels of need from the community adds to the difficulty. What's more, the shelter, which is based in the idea of helping people and animals, has been hit by the costs that stemmed from the vandalism that occurred in January. If ever there was a time to help an organization like this, it would be now.
Any donation you can make to Hooves & Paws will help the people who run it, the equines it helps and the dogs that are sheltered and rescued. If you'd like to see horses that are currently being helped by the shelter, click here. Want to find out about dogs you will be helping? Click here. Also, if you want to adopt a horse or dog, visit the group's Web site by clicking here.
There are many ways to help the shelter. Monetary donations will help cover the costs of replacing pipes, propane and more. More money means more food for animals around the community that is given by the shelter. More money means more in the bank for future costs and philanthropic efforts. Hooves & Paws depends on the generosity of the community and volunteers to help care for their rescues. The group does not receive government funding. It is an entirely volunteer based organization and no money is used for administrative salaries. Hooves & Paws of the Heartland is a 501(c)3 non-profit corporation and your donations may be tax deductible.If you'd like to donate in this way, click here.
If you don't have money to donate, there are other things you can do to help. The shelter, for example, gets calls every day to shelter a new horse or dog. With limited space and resources, the group is asking the community to open its homes to dogs and horses that can be fostered. These "safe houses" will take some of the strain off of the rescue while still providing all animals with homes.
The group also gladly accepts hay donations. Horses are large animals and put down a lot of hay. If you have hay to donate, the group will gladly pick it up from your place.
Here's a wish list the group has on its Web site if you want more ideas:
Adoptive Homes For Both Horses & Dogs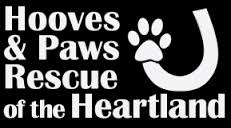 Foster Homes For Both Horses & Dogs
Sponsor A Horse Or Sponsor A Dog
Discounted Horse Training
Discounted Farrier Services
Adult Volunteers
Monetary Donations For Both Horses & Dogs Food, Vet Bills and Housing
Purina Strategy Or Safe Choice Horse Feed
Purina Equine Senior Horse Feed
Fly Spray For The Horses
Tractor Supply Pine Shavings Used For Bedding For The Horse Stalls
Salt Blocks For The Horses
Corral Panels For Horse Enclosures/Stalls
Rock For Drive-Ways
Gas Gift Cards For Transporting Horses & Dogs
Tractor Supply Gift Cards For Horse & Dog Supplies
Horse Treats
Dog Treats
Heartworm Pills (Call or E-mail us for sizes & brand we use)
Clean Dog Bedding
Cleaning Supplies
Discounted / Donated Cement Work
Discounted / Donated Building Services
Grant Writers
It is always a great time to help your neighbors, but now is an especially good time to do so. If you'd like to help us help Hooves & Paws, follow the links above. Also, make sure to like the group's Facebook page for updates, news and more. Together, we can help local rescues and shelters like Hooves & Paws of the Heartland help the animals of its community.
Update (Feb. 14, 2014) The folks at Hooves and Paws Rescue of the Heartland recently contacted us with an update. Here is the good news:
Due to the article you wrote and also the news story done by Fox 42 KPTM in Omaha, NE we have had donations coming in to help with not only the cost of our propane but also to help us with the cost of caring for the animals at Hooves & Paws Rescue of the Heartland. Due to the frigid cold we have this winter the number of animal abuse and neglect calls coming into our facility are at an all time high once again. We are planning "Another Expansion" in hopes that we can build additional Shelter areas for Horses, Donkeys, Mules, Dogs & Puppies. We have met with our Builder and we will be drawing up some plans and also meeting with our Board of Directors to discuss how to accomplish this "Expansion" and what funds are going to be needed to get this out of the ground. We have several fundraising events in the planning stages to help raise some of these funds. But most of the funds will need to come from "Public Donations". WE have been blessed since we opened our doors at Hooves & Paws Rescue of the Heartland with the support of the Public. We have many good people who follow the work we do in Iowa, Nebraska and beyond and because of this we are very hopeful this "Expansion" will become a reality in the very near future.
Feel free to watch for updates on our Facebook Page also. Thank you so much Eric for everything you have done for us thus far. Working as a "Team" we can "All" make a difference in the lives of so many animals in need.
We would like to thank everyone who read our story about the rescue; especially those who donated, spread the word, or plan to donate in the future. Together, we can make a difference.