Helping Hand and three of its dogs need your help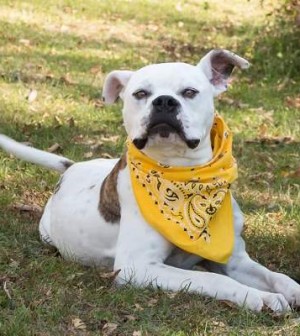 We've got a pretty loud voice here at Pets in Omaha. Since our inception, our website has had hundreds of thousands of views. We've got thousands of followers on Facebook, Twitter, and Instagram. So when a local rescue needs help, we act. Nothing would make us happier than to change the lives of the three dogs we'll introduce you to here.
From Helping Hand's Facebook page, March 21, 2016:
We need your help…We are a small but devoted group of people who are committed to the lives of our rescues. We would love to take many more in who have no one (to) step up for them, but that is impossible. When other large groups appear to take on many only to later put them down when they feel overworked, don't have funds…we surrender ourselves to keep the term "rescue" pure. Killing an animal for the sake of convenience is not rescuing…yet it's common practice for many rescues.
Baxter deserves better
Cameron deserves better
Gypsy deserves better
These 3 babies need homes or foster homes in the next 30 days. We need just that many hearts who have time and love to offer. We will supply the rest. Please…. help us help them.
That Facebook post was written by an obviously dismayed and disheartened Rose Coco of Helping Hand. Her discouragement comes from nearly 4,000 Facebook friends and no requests for these pups. We understand not everyone can foster at the drop of a hat. We also understand adoption is not always an option. We do understand, though, that it's our job here to spread the word and make life better for the hard-working folks and home-needing animals in their rescue.
If you'd like to find out more about these dogs, see the photos below and email Rose at helpinghandro@gmail.com. If you can't adopt or foster, please share so the post can reach someone who can.