Highlights from the National Pet Memorial Day Event- Sept. 8, 2013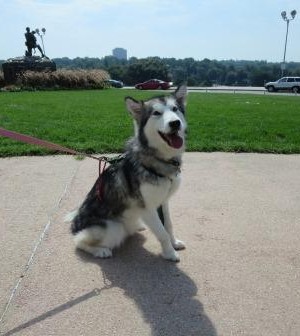 If we could have, we would have loved to have attended the entire National Pet Memorial Day event at Omaha's Memorial Park, but we were having our magazine's launch party concurrently at the Nebraska Humane Society. We did however, stop over to see what was shaking at the event.
Paws to Angels, a full service pet loss organization in Omaha, had speakers and a nice setup for those who wanted to pay tribute to their lost furry friends on this day. To visit their Web site and find out about all they have to offer grieving pet lovers, click here.
An organization we've often highlighted on our events page, Taysia Blue Siberian Husky Rescue, also had quite the presence at the event. Numerous Huskies and their owners were in attendance and it was great to meet some of these wonderful people and pets. Check the Photo Gallery for a great picture of Bettie Page, a beautiful Husky. Abby, another rescued Husky, was there to greet everyone with a smile. It was a hot day, but the folks there had plenty of treats and cool water for their pups. A great time was had by all. Check below for a photo of sweet Abby and make sure to visit www.taysiablue.com for more information.
Among the other attendees were the folks from PAWfect Pet Services; namely Kelley. Kelley and her dogs, Diesel and Barry, were there to greet folks and Kelley had much information to give to the park-goers.
On Sunday mornings from 10 to 11 A.M., Kelley and the dog pack take walks around the park to encourage socialization, help dog owners learn to "master the art of walking," provide training instruction, and help acclimate reactive dogs.
For more information about Kelley, the PAWfect Pet Service, and how you can become an advocate, call (402) 253-9111, email pawfectpets@hotmail.com, or visitpawfectpetservices.com. The group doesn't use Memorial Park as an exclusive location, so make sure to check the Web site out for park and event locations.
The group suggests that you make a small donation to help with the efforts and proceeds from the walks will be donated to the Nebraska Humane Society's Safe House Program to help animals in domestic violence locations.
Overall, the event was just another example of how Omaha's pet community comes together to better its pets and owners. Remember to check our events page for upcoming get-togethers and meetups. Diesel and Barry are rock stars, like the rest of the pets at the event- check them out pictured here with Kelley.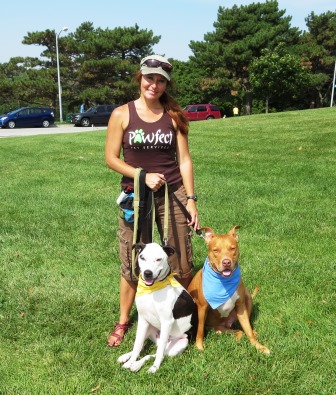 Lest we forget our launch party that happened at the same time as this great event- Pam at the Nebraska Humane Society, along with our founder, Lee, did a great job of promoting the online magazine we're working so hard to make work for you.
Thanks to KMTV and WOWT for the coverage and thanks to all who came out to find out about our endeavor. We hope to keep gaining steam, providing you with news, information, and growing the pet community. Don't forget to follow us on Facebook and Twitter (@PetsInOmaha) to get the latest.