How Millennials Are Changing The Organic Pet Food Industry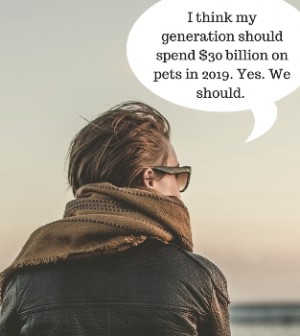 The world is changing every day, and do you know who is usually to blame? Kids these days. "This generation" is usually the culprit according to our community elders (who once were referred to by their elders as those kids). Millenials are the target for current attacks these days and here are ways these kids are affecting change (mostly in a positive way!) in today's pet industry.
Thanks to Linda Mathews, editor of Cats Purfection, for having animals as her passion and for helping us with this post.
Millennial pet owners have recently given much attention to the dog food and cat food industries, and rightly so. According to the date from the US Pet Industry Market Size & Ownership Statistics, US millennial pet owners increased their total expenditure on pet product by 24.2 percent from 2014 to 2018, and their expenditure on pet food alone by 28 percent. Moreover, in the US pet market, millennial customers – people aged between 16 and 34 –  consider their pets as family members and that's why they're ready to spend vast sums of money for their keeping and caring.
The organic dog and cat food industries absorb billions of dollars each year from the current and prospective pet owners. According to Packaged Facts US Market Outlook 2017-2018, in 2017 pet owners spent 29.07 billion for their pet food and in 2018 they spent 29.88 billion. By the way, millennials as pet market customers are inclined to natural, organic pet food products. The packaged Facts` report includes such data:
More than 55 percent of millennial pet owners prefer to choose the holistic and natural-branded food supplements.

Approximately 69 percent of millennials are more likely to provide naturally-made food for their pets.

Nearly 75 percent of pet owners aged between 16 and 34 speak frankly that they are extremely worried about pet food contamination and product safety. Among older customers, this figure is significantly less and it is just 66 percent. Therefore, pet food companies have to be increasingly vigilant in their inner protocols in order to detect any safety problems.

Most millennial pet owners say that they try to pick out the products with transparent and green labeling. They`re looking for pet foods that characterized as organic, non-GMO, holistic and grain-free. This means they prefer to use pet foods with formulations aimed at improving the health of their pets.
To sum up, it should be noted that millennial pet food customers make their own demands on the organic pet food industry. Millennials emphasize the increasing importance of natural and organic ingredients in pet nutrition supplements. The main characteristics that attract millennial pet owners are the transparent pet products' content and sourcing. Such customers prefer organic pet food whose green contents are clearly indicated. In the case, when the pet food markets demonstrate to the millennial customers that foods can make their pets happy and healthy family members, the pet food industry will get a great demand for its products.
About Linda Mathews: 
Animals have always been a passion of hers. She enjoys animal science, animal husbandry, training, and market animal research.
Linda watches everything like a hawk! She's the editor at https://catspurfection.com/