Little Humans Reading To Shelter Dogs!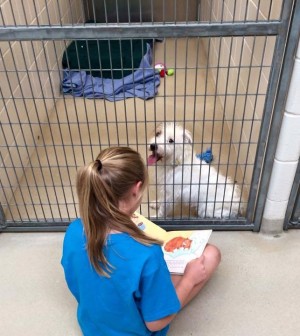 We found this story on The Dodo and just had to share- it's probably the cutest and best story we have ever shared- in my opinion.
Kids are literally reading to shelter dogs and I am dying with happiness. This is happening at the Humane Society of Missouri.
The benefit for the dogs and the kids is so phenomenal and it's such a simple task.
So here's how it works.
Children ages 6 to 15 can sign up for the program online. It's a 10-hour course that teaches the children how to read a dog's body language in order to know if they are stressed out or anxious- because we all know those animals need the most attention but they rarely get it. Once they complete the 10-hour program at the Humane Society they can come back with their parents and read to the dogs anytime on their own.
The little humans sit in front of the shy or anxious dog's kennel with a book and read to them.
"Hearing a child reading can really calm those animals," Klepacki told The Dodo. "It is incredible, the response we've seen in these dogs."
The ideal situation is for the dog to approach the child, when the pup does that he/she gets a treat. This encourages the dogs to come to the front so adopters are more likely to notice these dogs and adopt them.
The benefit is huge for the dogs, but might be even better for our little humans.
"It's encouraging children to develop empathy with animals. It's a peaceful, quiet exercise. They're seeing fearfulness in these animals, and seeing the positive affect they can have," said Klepacki to The Dodo. "It encourages them to look at things from an animals perspective. That helps them better connect with animals and people in their lives."
And did you know the Nebraska Humane Society welcomes visitors of all ages to spend time with shelter animals in the public kennel spaces during adoption hours. The dogs, cats and even the critters all love a good story! We have a library on-site or you can bring books from home. All the shelter asks is that minors are accompanied by an adult.
My heart is melting. My hope is that we can spread the word and get ALL Humane Societies to implement this simple but incredibly powerful program.
Let's spread the word!