Introducing Dharma Dog Training and its Newest Program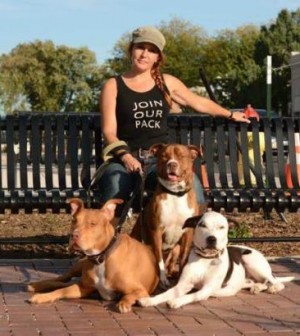 Welcome aboard to our latest Pet Partner, local trainer Kelley McAtee and Dharma Dog Training!
On Sept. 8, 2013, Pets in Omaha held its official launch party at the Nebraska Humane Society. After the party, I headed over to Memorial Park for a get-together where pet owners spent the morning commemorating the lives of recently deceased pets. Several rescue groups were in attendance, as was Kelley McAtee. Coincidentally, she launched Dharma Dog Training the following day.
Our latest page will be dedicated to stories and advice about all things animal training. Kelley and Dharma Dog will be prominent on that page, as will articles about other who train for obedience, train for sport or are active in the realm of training throughout our community.
As an introduction to Kelley's business, I'll detail her newest program; one of many she'll launch in 2015.
The New Adopter Training Program was just launched by Dharma Dog and seeks to prepare new dog owners for life with their new pups. "We just launched the program for new adopters at a discounted rate," Kelley says. She plans to reach out to rescue organizations so they can offer this to their foster homes or new adopters. "The program will include a consultation and basic training to equip new adopters with the tools to get started on the right path with their pet," she says.
Kelley's Web site, which can be found here, details the program. Here's a message you'll see once you arrive at the New Adopter Training page:
"Congratulations on your new addition! As most new dog owners, our natural instinct it to provide our dogs with an endless amount of love and affection.  However it's very important to remember that in order for your new companion to live a healthy balanced lifestyle, they not only need an abundance of TLC, but they also need guidance, structure, proper discipline, and most importantly time to adjust. Without these things, our dogs will most likely start developing bad habits and issues. In turn this may even cause us to wonder if we made the right decision about adopting a dog, in the first place.
We as trainers, rescue volunteers, and dog rescue parents ourselves, understand the emotional rollercoaster that can occur when being the owner of an unbalanced dog. It's not only frustrating for the owner, but it is for the dog as well. Dogs are domesticated animals and rely on humans for everything, which includes looking to you for guidance.  When we do not set their dog us for success by creating clear rules boundaries and limitations, we both fail, but in the end the one that usually ends up losing the most, are the dogs.
In order to help avoid second guessing and prevent any unwanted behaviors issues from even starting, we've created a program to help start you and your dog up for success, from the very start!"
New Adopter Training is offered at the price of $75. A small price to pay for getting off to the right start with your new dog. The initial session includes a 60-90 minute consultation. Training equipment is not included. Additional training sessions are billed at $75/hour. To buy a session, follow the link above and find the "Buy Now" button or fill out an application.
We are very excited to have a new page coming which is dedicated to Kelley's business and others in our pet community. If you have a training related question that you'd like our experts to answer, send us a note using our contact form. You'll find a link to it atop our homepage.
Kelley's philosophy is summed up by this quote you'll see on her site: "Dog training is a journey, not a destination. My goal is to keep dogs healthy, happy in their homes." Learn more about Kelley by visiting her site and be sure to follow Dharma Dog Training on Facebook. Twitter, Instagram and other social media platforms. Links to those pages can also be found on her site.